It's time for Snippet Sunday. It's the weekend and I'm still taking it slow because my grandmother AND my dog died in the last two weeks. I'm taking a break from my new series filled with snark, humor, and paranormal bikers, but you can stil find them in Kindle Unlimited HERE. Don't forget, you can either buy books on Amazon as usual or you can "borrow" the books in Kindle Unlimited (which is an unlimited reading subscription for only ten dollars a month).
But today I'm showcasing COURTING THE DRAGON WIDOW and it's on pre-order now! In this snippet, Lissandra Charforest has come across the country to go on a blind date with an eligible dragon bachelor, Denarrion. She's staying with Denarrion's brother before she meets him.
~~~~~~
"Nice." She nodded, but some of her misgivings returned. "Thanks again for the place to stay."
"You're welcome. The bathroom is down the hall and there are towels and extra toiletries if you need them. Can I get you anything else? Tea? Coffee?"
"No, thank you. That's enough for now. I'm just going to get into bed and rest before, well, tomorrow." She rubbed her arms to dispel the feeling that she'd missed something important.
"Don't worry. Everything will be fine. And I think you'll really like Denarrion." Charlorrion hesitated like he wanted to say more.
"I hope so. I mean, this seemed like a good idea a month ago, when I finally felt ready to face the world again." She shrugged. "I wanted to see if I could find someone to love again." She shot a look around the unfamiliar room. "But now I'm having a few second thoughts. Think I'm crazy?"
He tilted his head. "Perhaps, but that doesn't mean taking this chance isn't a good idea. Sometimes making a simple change in your routine helps everyone heal from losses."
She couldn't help but feel like he meant something other than her widow status. "I can see that. I loved my husband and for a while, I couldn't imagine loving anyone else. But ultimately, I don't want to be alone and I want my children to have a father-figure in their lives."
He nodded. "Give Denarrion a chance and see how it goes. He's a good guy once you get to know him."
Once I get to know him? Why wouldn't I like him first off?
She didn't voice the questions as she nodded. "One day at a time, right? As if I could choose to skip days." She snorted. "Thanks again for the room. I'm going to call home and get some rest. See you all in the morning."
Charlorrion nodded with a smile. "Good night, Lissandra."
"Night."
~~~~~~~
Sounds like there might be something they haven't told her about her date. 😉 There are several great authors on the Weekend Writer Warriors list, the Snippet Sunday Facebook group, and the Rainbow Snippets Facebook group. A few of my favorites are, P.T. Wyant, Karen Michelle Nutt, Veronica Scott, Jessica Subject, Kathy Griffith Karysa Faire, and Iris Blobel.
Here's the blurb for COURTING THE DRAGON WIDOW: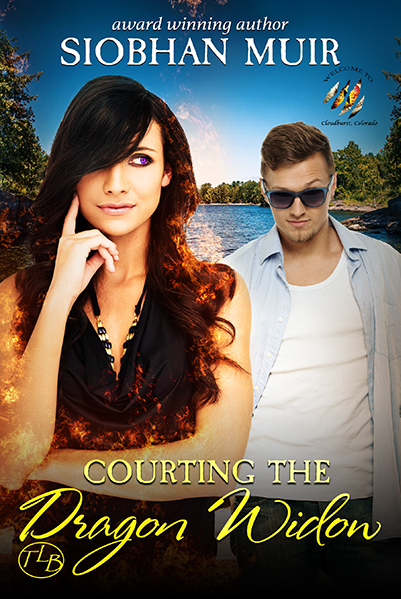 Available Wide for a Limited Time
Everyone has demons, but Lissandra's date might have it worse than most…
Lissandra Charforest is finally stepping back into the dating game after three decades of widowhood. Accepting a blind date, she travels to a small town in upstate New York to meet an eligible dragon bachelor. Too bad the guy seems determined to stand her up.
Denarrion Goldencoat wouldn't have agreed to a blind date with the Widow from Colorado if his father hadn't insisted. Happy being the perennial bachelor, he has no desire to settle down on one woman, much less one with kids already. Until he falls into the reservoir with her.
But everything's not as it seems. Beneath the quaint façade of Redfield, darkness and decay lurks to ensnare the unwary. When Lissandra discovers she's been lured to Redfield to kill a demon under the pretense of a courtship, she almost walks away. But the truth jeopardizes the life of her True Bonded mate, leaving her with one choice: Destroy the demon or die trying.