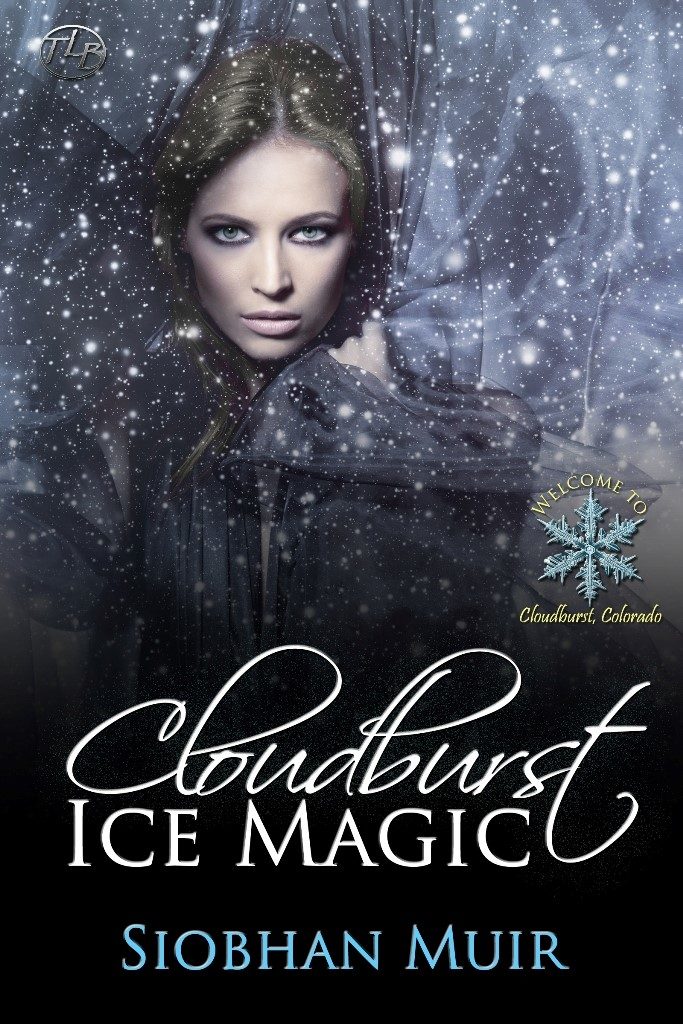 Avalanches may bring down more than snow…
Working for the Search and Rescue team at the Cloudburst Resort in Colorado, Lily Sinclair figures she'll do all the rescuing from now on. When hikers are caught in a spring blizzard, Lily and her partner head into the storm. Cut off from communication and facing deadly conditions, Lily fears she'll never see her Ice Demon lover before death claims them.
Zach Snow encouraged Lily move to Cloudburst to grow and learn, but missed her every day of their months apart. His plans of moving to Colorado get pushed up when he receives her text explaining her situation, and saying goodbye. He must negotiate with the local Ice Demon clan to work in their territory to rescue Lily and the hikers before the Spring Fling blizzard kills them. But he's running out of time.
Between the amorous hiker hitting on Zach, Lily's self-doubts, and an avalanche bearing down on them, Zach and Lily must rediscover the love they first kindled in a Christmas ice cave, and create their own Cloudburst ice magic.
Sleet laughed, saluted, and was gone in a hissing sprinkle of snowflakes. The desert air sucked up the moisture before it hit the ground and took Zach's smile with it. He shoved the last of the totes into the back of his truck and closed the tailgate, grateful Sleet didn't push too hard. He wasn't ready to tell anyone of his impulsive choice to mate with Lily.
Speaking of which, why hasn't she answered my texts? He checked his phone again to be sure, but he found a big ol' nothing. He shook his head and sprayed a little shower of water around him. Crap. Nevada had launched into its warmer spring temperatures and he needed to make himself scarce in the lowlands or get out of Dodge entirely. He locked the empty cabin and glanced at his phone again, willing it to beep with an incoming text or email.
A chill ran up his back from his gut and all his crystalline hair rose to stand on end. Something's wrong. He inhaled the balmy spring air and scanned the softly dripping world around him, but everything appeared in order. Still, the eerie feeling of dissonance rattled the crystals of his hair and he gritted his teeth as he strode for the driver's side of his truck. What is it?
His phone rumbled with a red hawk's scream, the sound he'd chosen for emergency contact texts. He jerked it out of his pocket and touched the screen.
Snowed in bad. Whiteout conditions w/hikers on the slopes. Miss you and love you. Lily.
Zach's stomach flipped over and dropped to his boots. He punched her number immediately and listened to it go straight to voicemail. "Dammit, Lily! Where are you?"
He took a deep breath and thought back to where she'd said she worked. Cloudburst Resort in Cloudburst, Colorado. He slid into the driver's seat and punched the maps icon on his phone. Cloudburst showed in the mountain range in the southwestern corner of the state.
Zach nodded. Too much time between Vegas and Cloudburst if he took his truck, but he needed his gear with him. Gritting his teeth, Zach started the engine and called a buddy of his who played in the Colorado Rocky Mountains.
"Snow, my man, what's up?"
"Cade, I need a favor." Zach headed down the hill toward the freeway.
"Anything, man. What's going on?" The mellow voice on the other end sharpened.
"Do you know any Ice Demons in the mountains of southwestern Colorado?"
"Sure. Got a couple of friends there. Why?"
"Can you find out if they've got any Spring Flings going on right now? I'm on my way, but I'm still about nine hours out."
"Whoa, man. Are you moving this direction?"
"Yep, but I gotta get there ASAP. Can you find out and call me when you know?"
"Yeah, sure. Not a problem." Cade paused. "What's the big rush, Snow?"
Zach sighed as he hit the turn-off to the 215. How much would Cade understand? "You know I'm in Search & Rescue for the humans, right?"
"Yeah, I'd heard you have a thing for them." Cade chuckled. "What of it?"
"I got news that some humans are caught in some heavy weather in southwestern Colorado and one of them's a friend of mine. If I could, I'd be out on the slopes right now. But I can't enter someone else's territory without an intro." Ice Demons tended to be territorial unless visitors went through the proper introductory channels. "Do you think you could have someone meet me in Cloudburst, Colorado as soon as I get there? I gotta get these folks out, Cade. It's important."
"I'll see what I can do, Snow. Just promise me you'll tell me the full story when you get here."
"Will do."
"I'll text or call you when I got something."
"Thanks, Cade." Zach floored the accelerator past the Aliante exit.
"Not a problem. Talk to you soon." The phone clicked off. Zach dropped it on the seat and slowed down before the cops got too interested in him. He'd have to send texts to Sleet and his folks, but he could do that when he reached a rest stop.
Waiting at the light to get onto I-15, he tapped a quick text to Lily.
Hang in there. I'm coming. Z
He prayed to Freya Lily would receive it. All he had to do was get to Colorado. He just hoped he'd arrive in time.