It's Snippet Sunday and I finally have a new book coming in the Concrete Angels MC series. Have you ever wanted to save the world? This book gives you a moment where you can do that and an HEA. Grab your copy today.
I'm showcasing ANGEL INK book 3 in the Concrete Angels MC. In this snippet, we're in Haley Michaels' POV (all in first person) and she's just gotten back to work after spending the weekend with the Concrete Angels. It's also a little longer than usual but I wanted to leave you with a bit of a hook.
~~~~~~
"You have to get out of here, Haley."
That's never a good thing to hear the moment I step into the office. I'd been floating through my morning after I called to tell my boss I'd be late. Having Michael take such good care of me, along with his divine sexiness, was enough to derail my usually frenetic mind. But Tori's efforts to turn me bodily toward the door and shove me ahead of her brought the holiday to an end.
Holiday? Jeez, Michael's British accent is totally getting to me.
"What? Why? What the hell is going on?" I tried not to trip over my own feet as she propelled me down the hallway away from the glassed in newsroom.
"Some detectives came in looking for you and went directly to Hank." She hustled me back out to the elevators in the lobby.
"Wait, what detectives? What are you talking about?"
She grimaced and shook her head. "I didn't catch everything, but it sounds like they think you saw a murder last weekend."
"What?" I swallowed hard and hoped my face didn't reflect my unease. "I didn't see a murder, I heard it and reported it anonymously. How the hell did they know to come here?"
"Carl must have sold you out." Tori scowled. "I told you that guy was lower than pond scum. And why didn't you tell me about this murder you witnessed?"
"Keep your voice down." I glanced around then dragged her toward the windows overlooking the street, conveniently next to the door to the stairs. "I didn't tell you because my phone was dead. And it was the fuckin' ADA who was murdered, Tori. I didn't really want to let them know who saw it."
"Why not?"
"Because it was a hit and if they're willing to take out the ADA, they're not gonna think twice about a fluff reporter for the Fort Collins Bugle."
~~~~~~~
Yeah, she's not someone a lot of people would notice. 😉 There are several great authors on the Weekend Writer Warriors list, the Snippet Sunday Facebook group, and the Rainbow Snippets Facebook group. A few of my favorites are, P.T. Wyant, Karen Michelle Nutt, Veronica Scott, Jessica Subject, Kathy Griffith Karysa Faire, and Iris Blobel.
Here's the blurb for ANGEL INK: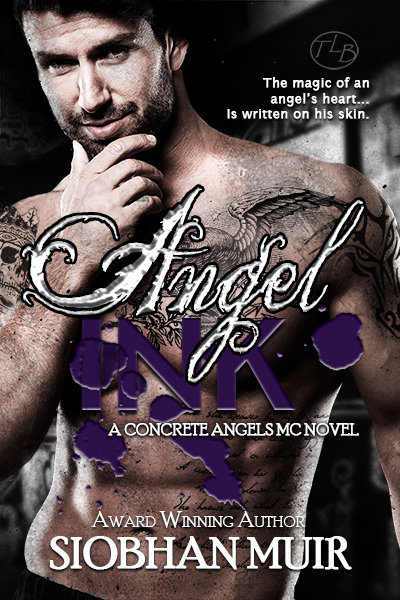 Now Available for Pre-Order!
Angels, Art, and Abduction: The magic of an angel's heart…is written on his skin.
Haley Michaels, Reporter
I was minding my own business, trying to escape a party, and walked straight into a murder. Which would've been the scoop of a lifetime if my phone hadn't died. And the door hadn't locked. Now I'm stuck in a cabin in the mountains with a hot guy who appeared on the street like my knight on shining motorcycle, and I should be more worried than attracted. I mean, he's covered in tattoos and is VP from the notorious Concrete Angels MC, the same group I'm investigating. Because I know they're involved with the deaths of a U.S. Marshal and two FBI agents. My love life luck sucks.
Michael, Concrete Angels' VP
Love isn't something that archangels ever expect to feel. At least not the all-consuming, no-holds-barred kind of love spoken about in films and songs. But that's what I felt the moment I laid eyes on Haley. She doesn't know I'm not human, or just how inhuman the rest of my MC is, but I can't stay away from her if I tried. Now I have to protect her – not only from the men hunting her, but also from the truth. The question is: will she stay when she finds out what I really am? Because if she can't be trusted with the truth, Loki will make sure she can't pass on the information. Permanently.