It's time for Snippet Sunday and I'm ready for the spring warmth. It snowed at the beginning of the week and yeah, I'm kinda done with that. Let's see if Nature listens to me.
Because it's the month of Beltane, I thought I'd showcase CLOUDBURST COFFEE & SPA, the companion tale to THE BELTANE WITCH. Both occur around May Day and there's a sequel to them coming in October this year, THE SAMHAIN SOLDIER (cover reveal soon).
In this snippet, we're in Moira Callahan's POV and she's just discovered who's the owner of the abandoned truck.
~~~~~~
Beneath icy cascade of water stood a man, naked, scrubbing his body under the spray. A huge elaborate tattoo covered his back from the shoulders to waist, and a matching sleeve coated his right arm. Dark hair, nearly black in the wet morning light, slicked down to his muscular shoulders and more of the robust muscles framed his lithe body.
Holy Goddess of the Valley. Moira damn near swallowed her tongue. I want one.
The sentiment surprised her. She hadn't wanted a man in a couple years, not like this visceral reaction. The man in the water turned and showed her his chest. Ridged muscles marched all the way down his torso, following a line of dark hair from his belly button into the water. Sweet Goddess, he has a happy trail. He wiped the water from his face and opened his eyes, his brilliant blue gaze locking on her.
Aiden.
Shock radiated straight through Moira and she swore her jaw hit the snowy ground. The gangly uncomfortable teenager had been replaced by an athletic man with strength and confidence in all of his moves. A half-smile curled his lips as he strode from the water, his nipples standing taut on his chest.
Moira could no more stop her gaze from dropping to his groin than she could stop the water in the falls. Dark hair led from his belly straight to his balls and despite the cold, she appreciated the size of his package. Hell, if that's him cold…
Aiden sauntered to his clothes left on a boulder beside the creek and scrubbed his body down with a towel, giving her a lovely view of his taut ass and back. Moira swallowed hard as she took in the intricate back panel tattoo of a Celtic knotted raven.
~~~~~~~
Welp, she's definitely getting the full view. 😉 There are several great authors on the Weekend Writer Warriors list, the Snippet Sunday Facebook group, and the Rainbow Snippets Facebook group. A few of my favorites are, P.T. Wyant, Karen Michelle Nutt, Veronica Scott, Jessica Subject, Kathy Griffith Karysa Faire, and Iris Blobel.
Here's the blurb for CLOUDBURST COFFEE & SPA: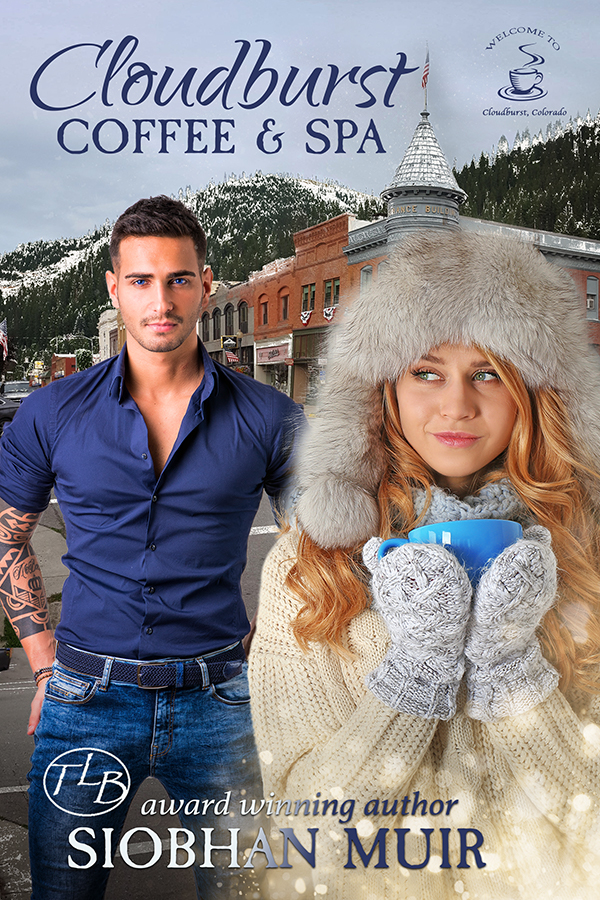 Moira Callahan knows a thing or two about fresh starts. Second chances are a different story…
As an empath synced into the energies of spaces around her, Moira always understood what people needed, and tried to provide. But after escaping an abusive D/s relationship, she's ready to make her own rules as the owner of the Cloudburst Coffee & Spa. Life is good. Until her first love shows up in town seeking his second chance.
Aiden Westmorland escaped Cloudburst to learn to control his sexual needs, but he left behind the one woman who calmed his statistical empathic abilities. Now he has a chance to rekindle the fire they'd shared as teenagers, with the flavor of BDSM. But earning the trust of an emotionally scarred woman after his long radio silence is easier said than done.
When Moira's past comes to Cloudburst, threatening the life she's fought to rebuild, Aiden insists she go to the police. But her former Dom has a past of his own, and he isn't willing to let go so easily this time….