So who likes LGBTQIA+ fantasy with romantic elements? Author J. Scott Coatsworth has a new release and it brings all the best things about sci-fi, fantasy, and romance together along with adventure and magic. If you like cross-genre tales, this one is for you. Plus, there's a GIVEAWAY at the bottom of the post where you can get a $20 gift card to the retailer of your choice. Plus, there's an opportunity to get a FREEBIE as well. Ready to read on?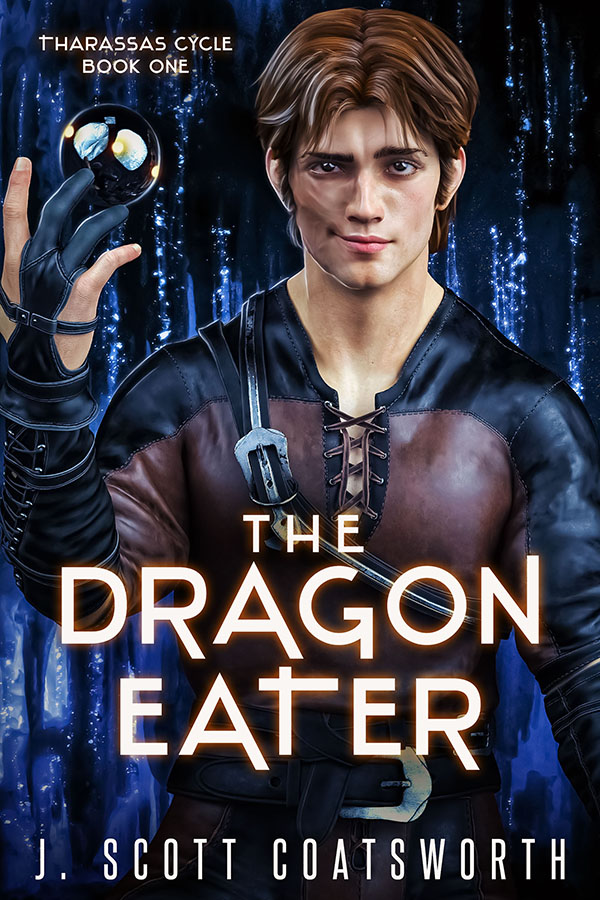 Raven's a thief who just swallowed a dragon. A small one, sure, but now his arms are growing scales, the local wildlife is acting up, and his snarky AI familiar is no help whatsoever.
Raven's best friend Aik is a guardsman carrying a torch for the thief. A pickpocket and a guard? Never going to happen. And Aik's ex-fiancé Silya, an initiate priestess in the midst of a magical crisis, hates Raven with the heat of a thousand suns.
This unlikely team must work together to face strange beasts, alien artifacts, and a world-altering threat. If they don't figure out what to do soon, it might just be the end of everything.
Things are about to get messy.
~~~~~~~
Genres: Fantasy, Romance, Science Fiction, Sci-Fantasy, YA Crossover
Story Type: Novel (>50k)
Word Count: 92500
Pairings: MM (romance subplot)
LGBTQ+ Identities: Gay, Bi
Keywords/Categories: science fiction, sci-fi, science fantasy, sci-fantasy, new release, announcement, gay, bi, bisexual, dragons, giveaway, friends to lovers, alien invasion, ya, young adult, crossover
Tropes: friends to lovers, alien invasion
Excerpt of The Dragon Eater
Spin's voice echoed in his ear. "This is a bad idea, boss."
"Shush," Raven whispered to his familiar.
He needed to concentrate. Cheek and jowl against the smooth cobblestones, he held his breath and prayed to the gods that no one had seen him duck under the sea master's ornate carriage. The setting sun cast long shadows from a pair of boots so close to his face that the dust and leather made him want to sneeze. Their owner was deep in conversation with the sea master, the hem of her fine mur silk trousers barely visible. The two women's voices were hushed, and he could only make out the occasional word.
Raven rubbed the old burn scar on his cheek absently, wishing they would go away.
"Seriously, boss. I'm not from this world, and even I know it's a bad idea to steal from the sea master."
Though only he could hear Spin's voice, Raven wished the little silver ay-eye would just shut up.
The hencha cloth-wrapped package in the carriage above was calling to him. He'd wanted it since he'd first seen it through the open door. No, needed it. Like he needed air, even though he had no idea what was inside. He scratched the back of his hand hard to distract himself from its disturbing pull.
An inthym popped its head out of the sewer grate in front of him, sniffing the air. Raven glared at the little white rodent, willing it to go away. Instead, the cursed thing nibbled at his nose.
Raven sneezed, then covered his mouth. He held his breath, staring at the boots. Don't let them hear me.
A shiny silver feeler poked out of his shirt pocket, emitting a golden glow that illuminated the cobblestones underneath him. "Boss, you all right?" Spin's whisper had that sarcastic edge he often used when he was annoyed. "Your heart rate is elevated."
"Be. Quiet." Raven gritted his teeth. Spin had the worst sense of timing.
The woman — one of the guard, maybe? — and the sea master stepped away, their voices fading into the distance.
Raven said a quick prayer of thanks to Jor'Oss, the goddess of wild luck, and flicked the inthym back into the sewer. "Shoo!"
He popped his head out from under the carriage to take a quick look around. There was no one between him and the squat gray Sea Guild headquarters. It was time. Grab it and go.
He reached into the luxurious carriage — a host of mur beetles must have spent years spinning all the red silk that lined the interior — and snagged the package. He hoped it was the treasury payment for the week. If so, it should hold enough coin to feed an orphanage for a month, and he knew just the one. "Got it."
"Good. Now get us out of here."
A strange tingling surged through his hand. Raven frowned.
Must have pinched a nerve or something.
Ignoring it, he stuck the package under his arm, slipped around the carriage, and set off down Gullton's main thoroughfare. He walked as casually as he could, hoping no one would notice the missing package until he was long gone.
"We clear?"
Spin's feeler blinked red. "No. Run! They've seen you."
Raven ran.
~~~~~~~~
Now the good stuff: giveaway and freebie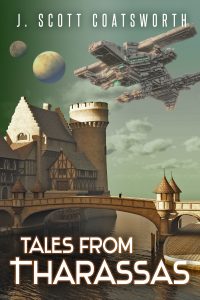 Scott lives with his husband Mark in a yellow bungalow in Sacramento. He was indoctrinated into fantasy and sci fi by his mother at the tender age of nine. He devoured her library, but as he grew up, he wondered where all the people like him were.
He decided that if there weren't queer characters in his favorite genres, he would remake them to his own ends.
A Rainbow Award winning author, he runs Queer Sci Fi, QueeRomance Ink, and Other Worlds Ink with Mark, sites that celebrate fiction reflecting queer reality, and is the committee chair for the Indie Authors Committee at the Science Fiction and Fantasy Writers of America (SFWA).
Author Website: https://www.jscottcoatsworth.com