As you might be aware, I'm thinking of leaving Facebook for a variety of reasons, striking off into a better place to interact with readers but also find peace. I'm not heading off into the bush like a hermit, but I'm just not willing to play by the rules Facebook is enacting. I recognize it's easy to be there and we're used to it. Facebook has trained us to think we 'need' it to connect. But it's also tightening a noose around social media and making us follow rules that benefit a company and in particular, white entitled males (don't get me started on the double standard that women users face everyday – it's too long a story).
It's the frog in the pot analogy. At first, the frog doesn't notice anything's wrong. Then you turn up the heat just a little. The frog gets used to it and doesn't hop out. So you turn up the heat a little more. You keep doing this until the frog slowly boils to death because it was a slow burn (see what I did there? 😀 )
Facebook's upcoming Terms of Service (TOS) has some alarming changes for me. Some folks will surely tell me, "Eh it's not that bad and the benefits outweigh the drawbacks." Right, for them, they're still the frog – it's not that bad. But for me, I'm ready to hop out of the pot.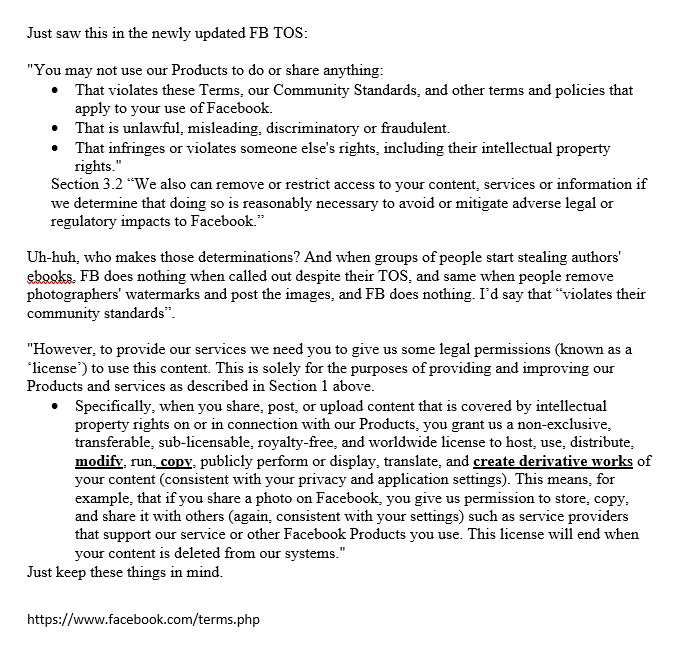 A sister author and friend asked me where I'd be if not on Facebook, and that got me thinking. We have a lot of social media sites, but Facebook has us stuck with them as long as we play by their rules. It's time to break the monopoly on our time. So where else can you find me?
Patreon is a great way to keep up with me and get some great exclusives, including the live streaming cooking videos. There are four tiers to fit any budget and I'd love to share with you.
MeWe for Facebook-esque posts and images, and the #flashfiction groups. Yes, #ThursThreads has a group there where you can get the announcements about the weekly challenge.
YouTube – I have a channel, but I can only do live cooking videos there if I have 1000 followers or more, so please follow me there. Let's make this a regular thing!
Instagram – I'm not a pro, but you still get images from me, usually of wildlife, my writing partner (Hobbes), and my yard. And now I can do live posts there too.
Edenbooks.com has a place for purchases like ARe and social media side like MeWe and Facebook. I only have 18 friends there at the moment, but I post just like on Facebook.
Sign up for my newsletter. It's weekly so you can find out the latest pretty quick, but I don't spam you and I only send to those who want to be there.
The new rules coming as of Oct 1 for Facebook – I got another warning today – make it harder for me to be on Facebook – so I'm not willing to stay.
So leave a comment here to let me know you saw it and where you'll look for me. Heck you can even just come here each day. 🙂