It's time for Snippet Sunday The smoke has gotten worse so we're hiding inside. So much for doing a little yard work while it's still warm. Sending blessings to all the firefighters out there battling the blazes in CA, OR, WA, CO, and WY.
In happier news, I started writing a serial email story once a week back in 2000. In 2015, I published the first section of this tale, The Ivory Road: A Walk in the Sand, as a re-edited story. It's the first story in a serial set of four. I'm working on #3 now.
I'm showcasing A WALK IN THE SAND and it's already out where you can grab a copy. It's only in ebook until I get the other two sections done. In this snippet, Iliana has agreed to lead Crowe and Ahmad across the desert just in front of the army chasing them. Fun times.
~~~~~~
After three days in the saddle, Iliana was sure of three things. Her ass would be forever sore, walking straight would be a challenge, and the men she traveled with would never trust her. They barely spoke to her other than to get bearings for the next oasis, and no one would share water with her. Thank God I have my own water skins…or Kyram did.
To get a greater lead on the army pursuing them, they slept in the saddle and she only stayed there because of the rope anchoring her to her horse. Aristotle kept going despite the grueling march and she secretly marveled at his stamina. Not that she told him. The talking horse had a larger ego than most of the Hollywood producers she'd met.
By the time they reached the oasis at the end of their third straight day, Iliana damn near cried in gratitude when Ahmad said they could stop for the night. Oh, thank you, God. The other men with them tumbled gratefully from their saddles and all the horses lay down under the shade of the palm trees. Her legs almost folded up under her as she landed in the sand.
"Jeez, I'm not sure I could ride another mile." She leaned her forehead against the saddle.
"At least you didn't have to walk it." Aristotle flicked an ear at her.
"I don't think I feel any better than you having ridden it." She glanced over her shoulder. "This oasis looks bigger than the others."
"It is. Biggest one before a real town." Aristotle dropped his head toward the water hole. "We should be safe for this one night, but to stay ahead of the Knalish, we'll have to leave early."
She groaned as she loosened Aristotle's girth before she pulled his bridle off. "Great."
~~~~~~~
She's gonna need a whole tribe of psychiatrists after this. 😉 There are several great authors on the Weekend Writer Warriors list, the Snippet Sunday Facebook group, and the Rainbow Snippets Facebook group. A few of my favorites are, P.T. Wyant, Karen Michelle Nutt, Veronica Scott, Jessica Subject, Karysa Faire, and Iris Blobel.
Here's the blurb for A WALK IN THE SAND: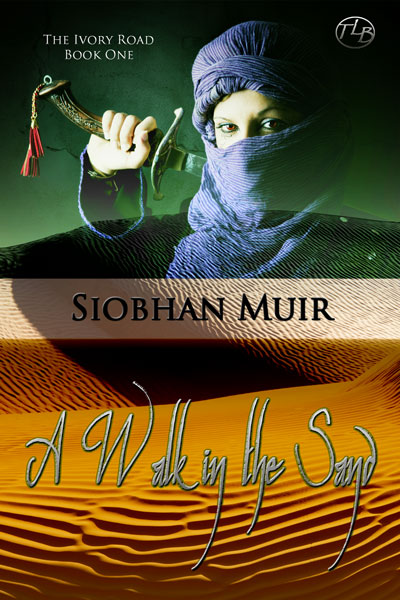 The adventure of Ivory's lifetime might just be the death of her…
When it comes to make believe, A-list actress Ivory is a professional. But when a desert hike takes her across a dimensional rift, her real-life self, Iliana Rory, must separate fantasy from reality. The man she swears is the costar in her next movie might share the same surname and appearance, but there are no sets in this Mr. Crowe's world, no props, and no director to yell "cut" before blood is spilled.

With a fortune in stolen treasure and the forces of the Knalish army hot on their trail, Brandon Crowe and his partner, Ahmad, must cross a desert neither of them knows well. Mistaken for their guide, Iliana seizes any chance to stay ahead of the army and survive in this new world.

Adventure straight out of a Hollywood blockbuster might be on Iliana's bucket-list, but she never dreamed there'd be the real possibility of death when the end credits roll. A Walk in the Sand is the first story in the four part serial recounting Iliana's journey along the Ivory Road.