It's time for Snippet Sunday and it's now August. I can't believe we're in the latter half of the year. School is starting soon in it's new ways and despite it still being summer, the mornings are getting colder. Can you sense fall coming?
I started writing a serial email story once a week back in 2000. In 2015, I published the first section of this tale, The Ivory Road: A Walk in the Sand, as a re-edited story. It did very well and I managed to get the second one out. But then stalled. I'm now working on the third one and my cover artist convinced me to make new covers for all of them so they'd match.
So today I'm showcasing A WALK IN THE SAND and it's already out where you can grab a copy. It's only in ebook until I get the other two sections done. Iliana Vanessa Rory, stage named Ivory, and she's been mistaken for someone else in a world she doesn't understand.
~~~~~~
"Please, Kyra, we need your help. My colleagues won't do you harm."
She snorted, but short of running straight out—going where, exactly?—she was caught. She drew herself up to her full height of five feet eight inches and faced Crowe, her hand near her sword. She hoped he wouldn't push her to try to use it. While she'd taken fencing lessons, this guy looked like he had practical fighting knowledge. The cloth of his shirt stretched taut around his biceps and shoulders. Yeah, he could drop-kick me into next week.
When Crowe saw her defensive posture, he backed up a few feet and raised his hands. His creamy surcoat gaped above the tan sash, showing a dark brown undershirt that match his pants. The well-worn sword and daggers hanging at his waist didn't reassure her.
"Kyra, it's me, Brandon Crowe. Please come out." He backed up another step. "I realize it's been two years, but I'm the man you saved when I came to the Karobis Desert in search of the Treasure Vault."
She swallowed hard and shot a look at Ahmad and the others. No one said anything for a few moments as she debated what to do. She'd never seen this man or been in this desert before in her life.
"It's all right, Kyra."
"Hurry it up, Crowe. There's an army coming, remember?"
Crowe swore under his breath, but kept his hands out where she could see them. Iliana took a deep breath. She could face anything. While she should've been in White Sands National Monument heading for her next campsite, the moment required her to be present here. And it's all about presence. That sounded good when she was safe in her life as a Hollywood actress, but not here.
~~~~~~~
Well that's a helluva wake-up call. 😉 There are several great authors on the Weekend Writer Warriors list, the Snippet Sunday Facebook group, and the Rainbow Snippets Facebook group. A few of my favorites are, P.T. Wyant, Karen Michelle Nutt, Veronica Scott, Jessica Subject, Karysa Faire, and Iris Blobel.
Here's the blurb for A WALK IN THE SAND: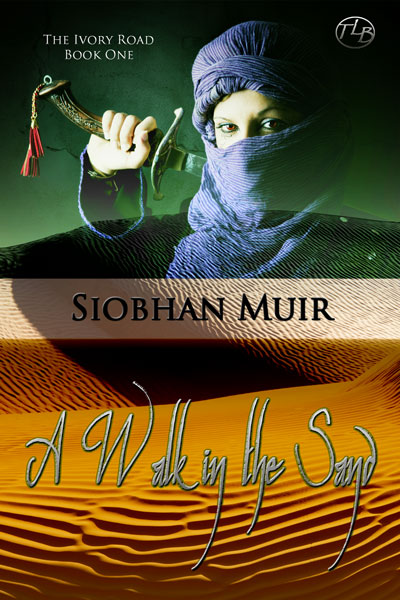 The adventure of Ivory's lifetime might just be the death of her…
When it comes to make believe, A-list actress Ivory is a professional. But when a desert hike takes her across a dimensional rift, her real-life self, Iliana Rory, must separate fantasy from reality. The man she swears is the costar in her next movie might share the same surname and appearance, but there are no sets in this Mr. Crowe's world, no props, and no director to yell "cut" before blood is spilled.

With a fortune in stolen treasure and the forces of the Knalish army hot on their trail, Brandon Crowe and his partner, Ahmad, must cross a desert neither of them knows well. Mistaken for their guide, Iliana seizes any chance to stay ahead of the army and survive in this new world.

Adventure straight out of a Hollywood blockbuster might be on Iliana's bucket-list, but she never dreamed there'd be the real possibility of death when the end credits roll. A Walk in the Sand is the first story in the four part serial recounting Iliana's journey along the Ivory Road.