It's time for Snippet Sunday and it's August. A few more weeks before school starts for the Muirlettes and we go back to a more regimented schedule. I'm ready. 🙂
But in the spirit of CFD, I'm showing off ROPE A FALLING STAR in preparation for STAR SPANGLED BANNER coming out in September. And if you sign up for my Newsletter, you can get the cover reveal! In this snippet, you meet Amber the massage therapist at the Triple Star Ranch and a person who suffers from PTSD from a fire. It's a little longer than usual but the last line is important.
~~~~~~
Amber jolted upright as sirens screamed across her awareness. Lights flashed from the ridge above the ranch before the fire trucks and emergency vehicles appeared racing along Rt. 224. She threw her feet over the side of the bed and headed for the front windows of her cabin on the Triple Star Ranch.
Please, God, don't let the Triple Star be burning.
Old panic welled up from places best left locked as she searched the ranch grounds from her windows. No smoke or flames. Where were the firefighters headed?
Amber unlocked her front door and stepped onto the porch. The wind blew in from the west, bringing scents of smoke and burning lumber. She scanned the sunset laden skies to the west and caught the plume of smoke rising in the evening breeze.
Aw hell, that's the Knights' place.
She shot back inside her bungalow and changed into jeans and a long sleeved t-shirt with the Triple Star logo of three stars arching over a horseshoe gracing the back. It was too hot outside to wear a coat, but she couldn't just go over there in flip flops and shorts.
Ranch fires were serious things and neighbors came to help no matter what. It's something she learned when she'd moved to Wyoming. Everyone pitched in fighting the fire or helping out afterwards.
And the doc said it was part of my therapy, part of what I need to heal.
Still, the panic almost slipped its chain and swallowed her whole. Memories of damn near burning alive in a cabin caught in a forest fire swamped her mind, bringing with it the scents of burning wood. The sound of hissing glass and moisture from the walls filled her ears and the roar of the flames engulfing her sanctuary made her drop to her knees. Heat bloomed across her face, the hot breath of the flames blistering her skin.
Until a cold wet nose and insistent tongue broke through the sounds and smells.
~~~~~~~
Guess even a hard-headed cowboy knows when it's time to quit. 😉 There are several great authors on the Weekend Writer Warriors list, the Snippet Sunday Facebook group, and the Rainbow Snippets Facebook group. A few of my favorites are, P.T. Wyant, Karen Michelle Nutt, Veronica Scott, Jessica Subject, Kathy Griffith Karysa Faire, and Iris Blobel.
Here's the blurb for ROPE A FALLING STAR: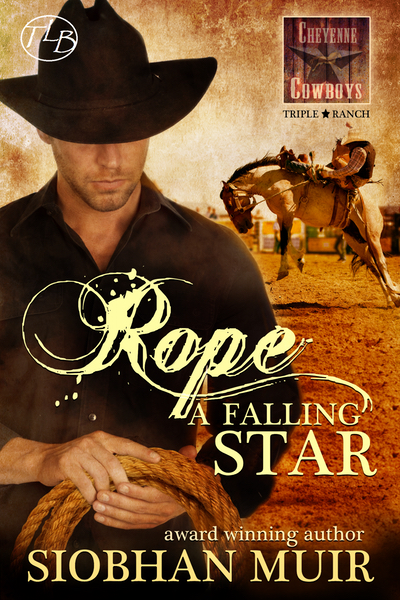 Only the best stars fall…
Three time bronc-riding champion Tom Colton's dream of a fourth title ends when he draws Wooden Nickel, a mean little bronc with more twists than a maze. With his heart no longer in rodeo, he figures it's time to go home to the Triple Star Ranch, the PTSD therapy ranch he and his dad founded to help others with trauma in their pasts. Tom just wants a little time to nurse his hurts and consider his next move.
Amber Hillcrest started out as a Triple Star client and stayed on as a massage therapist. Her dog Nimbus keeps her PTSD in check, but her heart remains bruised. She knows she's too old and too broken for love, especially with the son of her boss, but he's hot enough to fill her fantasies for years to come.
Amber tries to keep it professional between them, but Tom proves too irresistible with his big heart and charm. But someone is sabotaging the Triple Star and the neighboring Fantasy Ranch, and an ex-girlfriend keeps coming around, trying to reconnect with Tom. Tom's hands are full of problems instead of the luscious massage therapist. But when Amber gets kidnapped, Tom will move heaven and earth to get her back and tell her how he truly feels.