It's time for Snippet Sunday and it's starting to heat up in Cheyenne. And CFD starts in a little over a week. Are you ready for Rodeo?
I'm showing off ROPE A FALLING STAR. Tom just got home in time to see the neighboring ranch on fire and headed straight there. Amber is a massage therapist who works at the Triple Star and Tom was looking forward to seeing her.
~~~~~~
"Hey, let me help you with that." He strode toward her just as she turned her head to take his measure.
In the setting sun masked by smoke, she glowed with rosy light, and he was momentarily struck dumb. When the hell had she become so beautiful? He usually went for tall, willowy blondes. Or bleach blonde rodeo queens. But Amber wore her dark mahogany hair in a short bob framing her heart-shaped face, and it spoke volumes to her practicality and low maintenance.
My kind of woman.
The thought came out of nowhere and he continued to gape at her like he'd seen a ghost or something else less credible.
"Mr. Colton? Is that you? I thought you were at Cheyenne Frontier Days tonight." She settled the large case of water against her hip and shut the tailgate of her Jeep.
The memory of his disastrous ride made the pain of his shoulder return with a vengeance right along with the disappointment of coming in eighth. He grimaced.
"Yeah, well, the last ride didn't go so well, so I headed home." He shrugged with his good shoulder. "Good thing I did."
She turned to look toward the burning barn and the flashing lights, and her face blanched white. "Yeah, good thing."
To his surprise, her dog stood up on its hind legs and inserted its head under her arm where she held the case of water, whining for her attention.
"Here, let me take that. You got enough to worry about with your dog."
He reached for the case, pulling it from her arms, but when the weight hit his shoulder, he damn near dropped it on her.
"Oh, shit! I'm sorry." He lunged after the water at the same time she caught the other end and the dog dropped down beside her.
"Easy, there, cowboy. Did you get injured tonight?"
~~~~~~~
Who's helping whom? 😉 There are several great authors on the Weekend Writer Warriors list, the Snippet Sunday Facebook group, and the Rainbow Snippets Facebook group. A few of my favorites are, P.T. Wyant, Karen Michelle Nutt, Veronica Scott, Jessica Subject, Karysa Faire, and Iris Blobel.
Here's the blurb for ROPE A FALLING STAR: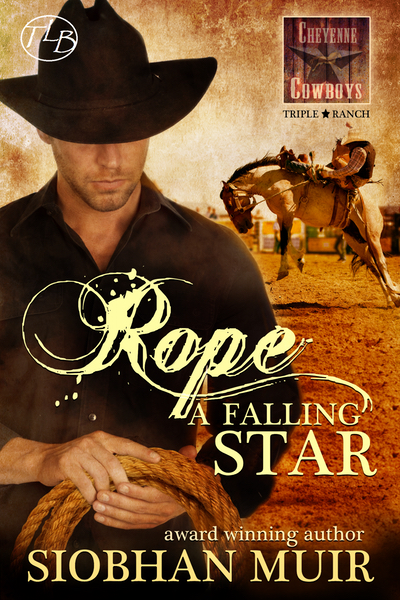 Only the best stars fall…
Three time bronc-riding champion Tom Colton's dream of a fourth title ends when he draws Wooden Nickel, a mean little bronc with more twists than a maze. With his heart no longer in rodeo, he figures it's time to go home to the Triple Star Ranch, the PTSD therapy ranch he and his dad founded to help others with trauma in their pasts. Tom just wants a little time to nurse his hurts and consider his next move.
Amber Hillcrest started out as a Triple Star client and stayed on as a massage therapist. Her dog Nimbus keeps her PTSD in check, but her heart remains bruised. She knows she's too old and too broken for love, especially with the son of her boss, but he's hot enough to fill her fantasies for years to come.
Amber tries to keep it professional between them, but Tom proves too irresistible with his big heart and charm. But someone is sabotaging the Triple Star and the neighboring Fantasy Ranch, and an ex-girlfriend keeps coming around, trying to reconnect with Tom. Tom's hands are full of problems instead of the luscious massage therapist. But when Amber gets kidnapped, Tom will move heaven and earth to get her back and tell her how he truly feels.