It's time for Snippet Sunday and it's snowing in Cheyenne. Just an inch but I have to go out for ingredients and I'm reluctant. Not that I can't drive, it's dealing with others who think they're all that in the snow. Oi.
The Triple Star Ranch series already has two books, ROPE A FALLING STAR and STAR LIGHT, STAR BRIGHT in it. And STAR SPANGLED BANNER is now out! Yay! You not only see the old favorite characters but meet some new ones.
In this snippet, Petty Officer Sanchez has arrived at the Triple Star Ranch and gets to meet Tom Colton.
~~~~~~
By the time the paperwork was done and Enrique got his key, a tall man strode into the lobby area with a rolling gait. He looked like the stereotypical cowboy with a chambray shirt, faded jeans, low-heeled boots, and a weathered straw hat. His eyes looked like they'd seen a lot, but his smile brightened his whole face as his gaze lit on Enrique.
"Petty Officer Sanchez, right?" The cowboy held out his hand. "Tom Colton. Welcome to the Triple Star Therapy Ranch."
"Thank you, sir."
"Aw, you don't have to call me sir. Tom'll do." He shook firmly but without the tightness of a man establishing dominance. "I understand you're here for some physical therapy to get you back into peak condition. That right?"
"Yes, sir. Er, sorry. Old habit in the military." Enrique grimaced.
"'Sokay. Let's go talk to Doctor Appleton. I understand she was the first one on the scene of your accident." Tom turned and gestured toward a hallway into the lodge.
"That's right." Enrique's heart revved up but he kept his expression mild. "Dr. Appleton was in the arena when I landed. I don't remember much, but she was there and got me stabilized before I was taken to the VA."
Tom whistled. "You're damn lucky she was there. Best rural doc around. Hell, in some ways she's better than the docs they have at the Cheyenne Medical Center."
"Then I'm doubly glad she was there that day."
"Hell yeah." He paused by the door to a small clinic. "I don't think she has any patients yet this morning so she should be able to explain your doctor's orders and we can set up a recovery regimen that'll benefit everyone."
~~~~~~~
Tom definitely knows how lucky he is and Enrique is learning. 😉 There are several great authors on the Weekend Writer Warriors list, the Snippet Sunday Facebook group, and the Rainbow Snippets Facebook group. A few of my favorites are, P.T. Wyant, Karen Michelle Nutt, Veronica Scott, Jessica Subject, Kathy Griffith Karysa Faire, and Iris Blobel.
Here's the blurb for STAR SPANGLED BANNER: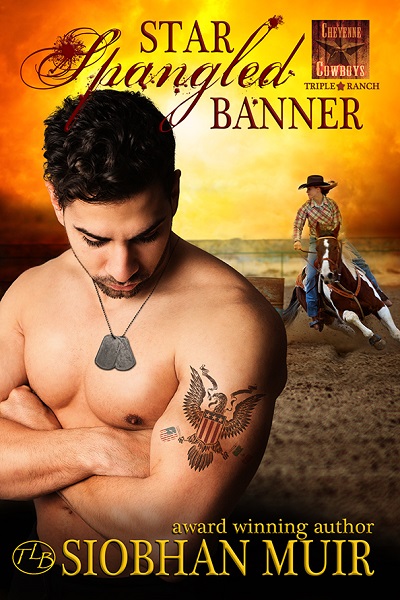 Sometimes a falling star wears a flag…
Dr. Suzie Appleton expected a helluva ride in the barrel-racing championships at Cheyenne Frontier Days rodeo, but she had no idea she'd have to save a man falling from the sky. When he calls her for a date, she's hesitant, but there's something sexy and seductive about the Leap Frog, and she takes a chance. She suggests he come to the Triple Star Ranch for his therapy to have more time with him before he returns to jumping out of airplanes.
Petty Officer Enrique Sanchez signed up to serve his country and expected to get shot at, just not during an exhibition jump at a rodeo. But the sexy doctor who saved his life in the arena is willing to sign off on his transfer on one condition: that he's not her patient. Works for Enrique. He'd much rather play doctor with her than have her white coat get in the way of their personal relationship.
While the attraction between them isn't one-sided, neither are the threats. Someone is trying to complete their attempt on Enrique's life, and someone else has their sights set on Suzie. Rumors and lies threaten to destroy their relationship. But all's fair in love and war, and both of them could lose big.