It's time for Snippet Sunday and we had a good 10 days of Cheyenne Frontier Days. I got the chance to ride in a wagon for one of the parades. 😉
The Triple Star Ranch series now has three books, ROPE A FALLING STAR, STAR LIGHT, STAR BRIGHT and STAR SPANGLED BANNER. There's a fourth one coming, but with so many writing projects going you can expect it probably in 2022. Tentative title: Loving a Tin Star.
In this snippet, Petty Officer Enrique Sanchez is talking to his CO Kent "Bruiser" Anderson about what went wrong and why he's in the hospital. They're Leap Frog SEALs who jump out of the C-130s for the event.
~~~~~~
"Yeah, yeah, whatever." Kent shook his head. "How are you doin' for real? The docs treating you okay?"
"Yeah." Enrique scowled. "They say I have to lay low for a few days and rest, but I need to get back to it."
Kent nodded. "Yeah, I feel you. But for once, I gotta agree with them. You impacted hard and punctured a lung. Ain't nothing you can do but heal. What the hell happened out there?"
Enrique shook his head and resettled himself in the bed. "I dunno. One minute the drop was going fine, and the next, the chute folded and I hit the dirt. Did you look at the chute?"
"Not yet, but it's on the docket this afternoon and the rest of our jumps are canceled." Kent frowned. "Did you hear anything, like shots or ripping to tell you it was collapsing?"
"Nope. Not a damn thing. Between the wind and the crowd, I didn't hear anything." He tilted his head. "Why?"
"Because the CFD med lady said the doc at the arena, who looked like a fuckin' cowgirl, said to check the chute for bullet holes."
Enrique scowled. "Bullet holes? Was someone shooting at me?"
"I'll have more intel this afternoon. But we'll be checking security cameras to see if we can get a fix on anything like a shooter." Kent rubbed the back of his neck. "Still can't believe she was a doc when she looked like a damn buckle bunny."
Enrique snorted. "You don't really look like a SEAL in civvies, either, Bruiser. More like a badass biker thug ready to throw down. No one would expect you at High Tea with lace doilies."
Kent grunted. "Yeah, well, I wasn't gonna let just anyone take a look at you. But she didn't back down."
~~~~~~~
Do I hear some grudging respect? 😉 There are several great authors on the Weekend Writer Warriors list, the Snippet Sunday Facebook group, and the Rainbow Snippets Facebook group. A few of my favorites are, P.T. Wyant, Karen Michelle Nutt, Veronica Scott, Karysa Faire, and Iris Blobel.
Here's the blurb for STAR SPANGLED BANNER: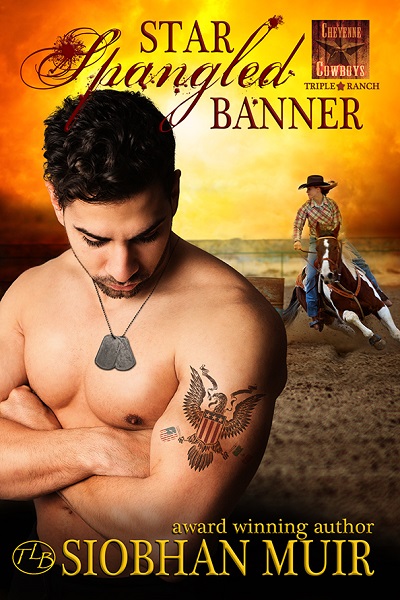 Sometimes a falling star wears a flag…
Dr. Suzie Appleton expected a helluva ride in the barrel-racing championships at Cheyenne Frontier Days rodeo, but she had no idea she'd have to save a man falling from the sky. When he calls her for a date, she's hesitant, but there's something sexy and seductive about the Leap Frog, and she takes a chance. She suggests he come to the Triple Star Ranch for his therapy to have more time with him before he returns to jumping out of airplanes.
Petty Officer Enrique Sanchez signed up to serve his country and expected to get shot at, just not during an exhibition jump at a rodeo. But the sexy doctor who saved his life in the arena is willing to sign off on his transfer on one condition: that he's not her patient. Works for Enrique. He'd much rather play doctor with her than have her white coat get in the way of their personal relationship.
While the attraction between them isn't one-sided, neither are the threats. Someone is trying to complete their attempt on Enrique's life, and someone else has their sights set on Suzie. Rumors and lies threaten to destroy their relationship. But all's fair in love and war, and both of them could lose big.