I've been waiting a long time for this day and so glad it's finally here. This is the second flipped trope anthology, but it's the first time I've written a contemporary billionaire romance. But it's not your typical billionaire romance. She's the billionaire, he's the blue collar single dad who needs a rescue.
Here's the blurb:
Some of us are feeling the fall vibes, but is it too late to enjoy some vacation fun? Never! Let's go back to the beach with these eight brand-new romances—and each one flips at least one trope.
From sweet contemporary romance to spicy paranormals, with LGBTQIA+ and BIPOC representation, this anthology has a little bit of everything. Each story is marked with genre, heat level, and romantic pairing, so settle down to have your expectations twisted and fall in love with unusual heroes.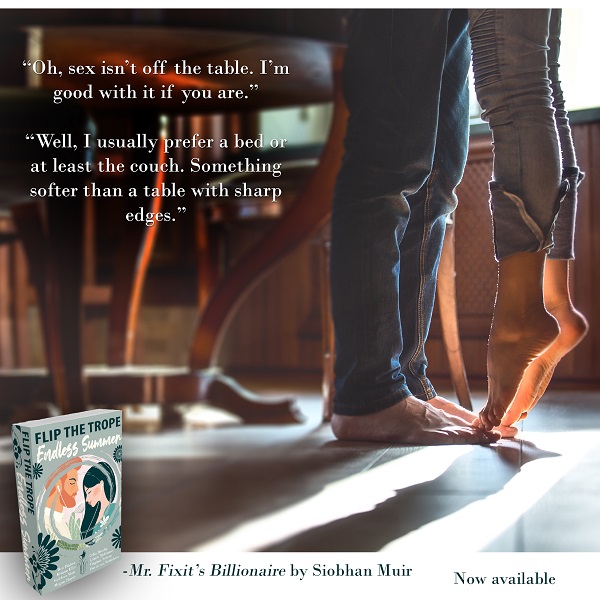 Excerpt of Mr. Fixit's Billionaire
After Michelle left, Amanda settled herself in her chair and straightened her clothes. "Show time."
"Are you sure you want to mention why you need this meeting short? It will just play into Walter's biases about single mothers and business." Zoe settled herself into a chair just to Amanda's right and crossed her legs.
Amanda bit her lip. "I suppose I could say I have a prior engagement that can't be missed."
"Go with that." Zoe nodded. "Subterfuge might work better in this instance, at least until you know what game you're playing."
"Got it." Amanda took a deep breath. "Here we go." She pressed the intercom button to alert Michelle she was ready.
Thirty seconds later, Walter and his bejeweled and be-gelled son Evan sauntered into the office. Walter kept a polite smile on his face, but Evan smirked like he'd just been given a new Ducati for winning a spelling bee. And that's pretty much all he's good at these days. Well, that and spending money on drugs and alcohol.
"Thank you for seeing us so promptly, Amanda. You ran out so quickly from the lawyer's office, I didn't get a chance to talk to you." The mild rebuke after his underhanded actions grated over her like nails against a chalkboard.
"Yes, well, I had arrangements to make, and they couldn't wait since pertinent information was knowingly withheld from me." She didn't even bother to smile.
Walter pretended to be contrite. "Ah, yes, sorry about that. The lawyer wasn't supposed to wait quite this long, but you're just so busy, it was hard to get a hearing date."
Oh, hell no, you're not going to pin this on me.
"Amazing that we have so many modes of communication in this century, isn't it? Email, telephone. I understand texting is now a thing. Have you heard of it?" She picked up her phone and waved it. "You can even carry your phone in your pocket or purse. Amazing." She dropped the false light note in her voice. "What do you want, Walter?"
"So direct." He tsked like she was an errant child.
"If I was a man, you wouldn't be censorious or dismissive, so cut the crap and get to the point. Why are you here?"
He settled an earnest expression on his face. "Ah yes, well, given the new parameters of the company remaining in your hands, I thought I'd make it easy for you and suggest an amicable solution for everyone involved."
"An amicable solution? What would that be?" She didn't move, resisting the urge to hurl her blown glass paperweight at his head.
"The company has always been profitable when run by a single family, and given your need for a husband, and Evan's need for a wife, it would be easiest if you married him." Walter smiled as if he'd solved all the riddles of the universe. "I'd be honored to have you as a daughter-in-law."
Amanda immediately bit her tongue to keep from barking out a guffaw. Marry Evan Tisdale? Not in a million years, not for all of China's gold, not if Evan was the last male on the planet. She'd marry Zoe first, and she didn't even swing that way.
"Thank you for the offer, Walter, but as it happens, I already have a boyfriend. He wouldn't take kindly to me throwing him over for your son." Amanda shrugged. "So, there'll be no need for Evan to sacrifice his freedom to be married to me."
"Oh, I won't be sacrificing anything—"
"Evan, please, let me finish this negotiation." Walter cut his son off and lost some of his warm smile. "Amanda, be reasonable. Five weeks isn't a lot of time to get a wedding together that befits a woman of your stature."
She tilted her head and narrowed her eyes. "What are you suggesting?"
"Agree to marry Evan and the shares remain in your possession. No harm, no foul."
And Walter gets the company either way. She pretended to consider. "I'll need some time to think about it. I'll call you with my answer as soon as I have one."
He narrowed his eyes. "How much time are we talking here? A few days? A week?"
She gave him her best winning smile. "As soon as I have an answer for you, I'll call you. Or email. Maybe even text. Now, you'll have to excuse me. I have a prior engagement that cannot be missed, and I can't be late. As you noted, I'm a very busy woman." She rose and gestured toward the door.
"Oh, yes, of course." Walter rose as well while Evan leisurely climbed to his feet, leering at her. Walter straightened his tie and his shoulders. "Please, take all the time you need to consider all your options. This could be a very lucrative partnership."
Amanda nodded with her smile cemented in place as the two men sauntered out the door. As soon as it closed, she lost her smile and turned furious eyes on Zoe.
"Wow, that was creepy and sickening, and all of it rolled into too much gel and cologne." Zoe shook her head.
"I need to find a fiancé ASAP, because there's no way in hell I'm marrying into that viper's family, and I will die before I let him have my company."