Welcome to Recipe for Romance!
Each weekend, I share a snippet of a tale that either takes place in the current month (in this case, June or is coming out in the current month, and a recipe that either goes with the tale or goes with the month.
Confused yet? Excellent! lol
Let's get started. I'm sharing a snippet of THE KAROBIS CALLS, book 4 in the 4 part Ivory Road serial. Iliana has returned to the school and found it burning. After she found survivors, she takes Naomi and goes after those kidnapped, including Brandon. I think everyone needs a sweet treat after something like that.
Available Now: The Karobis Calls
When they reached the end of the road to the school, Iliana pulled Aristotle to a stop, allowing Naomi to come alongside them.
"Okay, we need to figure out who they are, where they've gone, and how many they took with them. You said you could track them?" Iliana dismounted and pulled Aristotle over to the side of the road.
Naomi nodded as she slid off her horse. "My father taught me. It was the only way to know where to hunt for the day in my homeland." Rather than look at the ground, Naomi narrowed her gaze at Iliana. "What do you think we should look for? Too many people have come from the village and obscured the tracks of the slavers."
Iliana held up a hand. "Let's not make too many assumptions yet. First, you said they were dressed all in black, similar to me, right?" Naomi nodded. "Okay, our first thought would be the Knalish, but it could be the peoples who live east of your homeland, too. The desert folks that my people call the Bedouin."
Naomi shook her head. "I know those people. We call them the Tsornin, but while they dress in black, they have flowing robes rather than the tighter clothes you wear. And all the men who came to the school were dressed like you." She frowned. "Why do you wear those clothes?"
"I lived for a long time in the Karobis Desert, and fitting in without being a part of any particular worven or clan, was the safest. The Knalish saw what they wanted to see without asking questions." That sounded plausible, right?
Naomi's eyes widened and she nodded slowly. "A disguise to live in peace."
"Exactly." Thank goodness she agreed.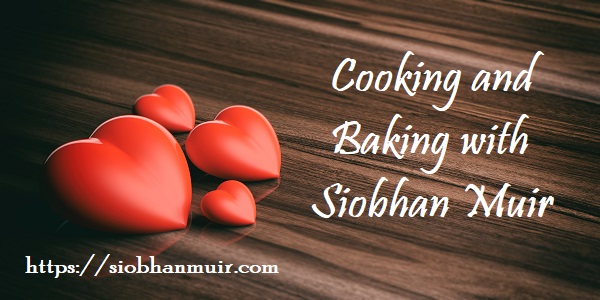 Cinnamon Roll Apple Pie
Crust #1
2 puff pastry sheets
2 tbsp melted butter
4 tsp cinnamon
1 egg
Brush butter over pastry sheet and add the cinnamon to cover. Roll sheets up into a cinnamon roll, cut the ends off to make even, and cut the roll into several ¾ inch disks. Place the disks on their sides in a pie plate all the way up to the rim. Press to flatten and merge into a crust. Brush with beaten egg.
Apples
Eight cups of sliced apples
½ cup of sugar
3 tbsp flour
1 tsp cinnamon
Combine dry ingredients until well blended. Add 8 cups of sliced apples (we used Pink Lady) and toss with hands until completely covered with cinnamon sugar. Pour apples and cinnamon sugar remnants into brushed egg roll crust and spread out until it fills the pie basin.
Crust #2
2 puff pastry sheets
2 tbsp melted butter
4 tsp cinnamon
1 egg
Combine like the first crust, roll, and cut into disks. Arrange disks in a circular pattern on parchment paper. Cover with another sheet of parchment paper, and roll out into upper crust with rolling pin (like a regular crust). Remove top layer of parchment paper and lay the newly rolled crust on top of the apples. Trim extra off crust to fit pie plate and press edges together to seal. Brush top of crust with beaten egg and cut heat vents.
Bake at 350 F (177 C) for 40 minutes.