Week 529 of #ThursThreads, and y'all never disappoint. We're in Year 10 and that's an accomplishment in itself! Thank you to all y'all for coming back to write for all these years. I couldn't have done it without you. If you've just found us, welcome to the crew! You're in good company. May you come back again and write more great flash. A thousand thanks to Bill Engleson for judging this week. Check out the #ThursThreads #flashfiction group on Facebook or the #ThursThreads Group on MeWe to keep up with news, etc.
Entries:
Nicola M. Cameron | @YesItsNicolaC
Richard Gibney | @ragtaggiggagon
Mark A. Morris
Joseph P. Garland | @JPGarlandAuthor
Mark Ethridge | @mysoulstears
Siobhan Muir | @SiobhanMuir
Silver James | @SilverJames_
Sheilagh Lee | @SweetSheil
David A. Ludwig | @DavidALudwig
Bill says: It's late September and, in my neck of the woods, it is still reasonably warm. We have had very few rainy days in the past two months. The earth is as dry as a word-parched writer.
However, we are known as the "wet" coast of Canada, and the rain is a regular feature.
It will come.
I had hoped that there would be an epidemic of noirish contributions for me to judge. That would have kept me smack dab in my literary comfort zone. 
Alas, that was not to be.
There were however a plethora of relatively unfamiliar world views that I was happy to enter and visualise. So many thanks for that. Onward to my decisions…
Honorable Mentions
David A. Ludwig | @DavidALudwig
Bill says: Love in universes I am unversed in are challenging. In David's snapshot of love and risk, I found that while I didn't need to fully understand the turf, whether it was fantasy or real, the emotions of the two 'lovers,' Mukuro and Karasu, were lovingly depicted.
"She looked away bashfully but didn't let go. Her heart raced. His matched hers. Unlike Karasu, Mukuro didn't have a pseudodragon to let her know what he was feeling."  
I am still working on the notion of pseudodragon…just can't picture it.
Silver James | @SilverJames_
Bill says: Silver is a skilled writer who creates complex emotional scenes with a few deft strokes of the pen. In the aftermath of a SEAL Team Atlantis operation, the survivors reflect on fallen comrades. She incorporates the prompt as a vessel to take us to memory. And a promise to protect as she wraps up her entry:
"I can't let you fall alone." The words came back to haunt him. He'd let his brother down. He'd let him fall. Alone. Warm lips touched the skin of his face. He blinked. Focused. All eyes watched him. He shifted, put his arm across Meg's shoulders. "A brother," he said. "Who fell into darkness."
"I'll never let you fall," Meg promised.
I figure this is something a hard-boiled Sam Spade could easily get behind.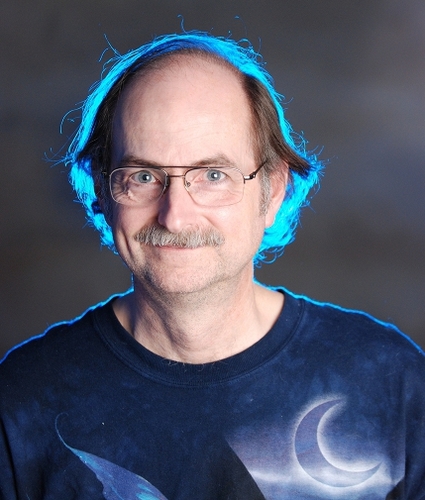 Week 529 Winner
Bill says: I like humour. I easily 'fell" for Mark's jaunty tale of Donna's 'fall from grace' on Miranda. Mostly though I felt that he used the prompt, a quite unwieldly phrase, with slightly more ease than the other contributors…"Damn-it, woman! You know damn well I can't let you fall alone! It's a long damn walk back!"
I will acknowledge, however, that Siobhan handled it quite adeptly.
I do have to wonder why Miranda sounds like the old Canadian Mining company, Noranda? I don't know, just as I didn't know Miranda was one of the moons of Uranus.
Uranus is always hilarious though…in the right sort of company.
As are Uranus moonings!
When we were growing up, we'd always wanted to be astronauts, exploring the planets and their moons. That's how we wound up walking on Miranda, working on a detailed mineral inventory for one of SpaceX's mining companies.
"It's a pretty view, isn't it?" Donna paused and looked over the edge of the Verona Rupes.
"Yep. 20 kilometers. It's a long way down."
She laughed. "I want a better view." I watched as she walked right along the edge of the cliff.
"Not a great idea, you know. There could be loose rock."
"I'll be careful." She continued walking along the edge.
Until she found the loose rock, which gave way under her foot, and I watched as she pitched forward, over the edge of the cliff.
"Well, damn…" That's all I could say. If she'd fallen on any Earth, or Mars, I'd have waved bye to her, and called for a team to come fetch her remains. But this was Miranda.
I walked off the cliff after her.
"Damn-it, woman! You know damn well I can't let you fall alone! It's a long damn walk back!"
I wondered how long it would take to reach the bottom. I'd never fallen in such weak gravity before.
All Donna could say was, "Oops. Sorry. Good thing the suits recycle the air."
"Maybe we can try to catch something on the cliff, and stop our falls?"
Donna laughed. "Where's the fun in that?"
~~~~~~~
Congratulations Fourteen Time Winner Mark, and Honorable Mentions David, and Silver! Don't forget to claim your badges and display them with pride. You certainly earned it!
Pass on the great news on Twitter, Facebook, MeWe, shiny mirrors, Morse Code, and signal flags. Check out all the original tales HERE. Thanks for stopping by and happy reading! 🙂