It's time for Snippet Sunday and it's starting to cool down in Cheyenne. This is good as I like summer but not a fan of SUMMER. It was 97 F the other day in Cheyenne and it's too much.
It's July and that means Cheyenne Frontier Days is coming soon. We took 2020 off but they're back to letting fools ride frustrated animals again, so I'm showing off ROPE A FALLING STAR. It's the first book in the Triple Star Ranch series, and you can find the other two titles there as well.
Tom is talking to a friend about his last bronc ride and his ex-girlfriend. He's retiring single.
~~~~~~
Because Darlene didn't like to lose or to be embarrassed, they'd agreed to keep the split quiet. The last thing either of them needed was a night at the bar, "reconnecting."
"I'm sure she will be." He nodded, hesitating before he said more. Max was a rodeo cowboy, and friendly, but he wasn't a career gossip. Still it was hard to let the words go. "Darlene and I broke up awhile back. I doubt she wants to see me much at all."
"Aw shit, seriously? I'm sorry, Tom. That sucks."
He shrugged. "It is what it is. So, yeah, I think I'm gonna head on home. If you see Darlene and the rest, give 'em my regards. I'm not fit for company tonight."
"You sure?" Max wore an uncharacteristically concerned expression as he followed Tom toward the competitors' trailers.
"Yeah, I'm sure. I ain't got the heart for it tonight. You have a good time and if Darlene ain't interested, I'm sure there'll be plenty of buckle bunnies waitin' for a rodeo cowboy. You're still in the runnin'."
Max didn't preen very often, but he puffed out his chest and grinned. "Yeah, my second year to make the finals."
"It helped you got the easy rides." Tom grinned to show he was teasing. Max had drawn some of the hardest broncs to ride this time around.
Except Wooden Nickel.
"Shut up." Max laughed as he slapped Tom on the back. "You're just jealous."
Yeah, a week ago, a month ago, hell even a year ago he might have been, but now he had to fake it so he wouldn't let his friend down.
"Yeah, maybe a little. But hell, I get to go home and soak instead of gettin' my body all busted up from a nasty group of broncs."
~~~~~~~
Sometimes it's good to know when it's time to go. 😉 There are several great authors on the Weekend Writer Warriors list, the Snippet Sunday Facebook group, and the Rainbow Snippets Facebook group. A few of my favorites are, P.T. Wyant, Karen Michelle Nutt, Veronica Scott, Jessica Subject, and Iris Blobel.
Here's the blurb for ROPE A FALLING STAR: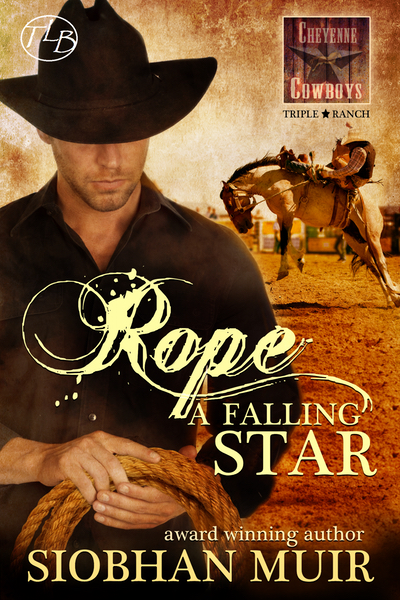 Only the best stars fall…
Three time bronc-riding champion Tom Colton's dream of a fourth title ends when he draws Wooden Nickel, a mean little bronc with more twists than a maze. With his heart no longer in rodeo, he figures it's time to go home to the Triple Star Ranch, the PTSD therapy ranch he and his dad founded to help others with trauma in their pasts. Tom just wants a little time to nurse his hurts and consider his next move.
Amber Hillcrest started out as a Triple Star client and stayed on as a massage therapist. Her dog Nimbus keeps her PTSD in check, but her heart remains bruised. She knows she's too old and too broken for love, especially with the son of her boss, but he's hot enough to fill her fantasies for years to come.
Amber tries to keep it professional between them, but Tom proves too irresistible with his big heart and charm. But someone is sabotaging the Triple Star and the neighboring Fantasy Ranch, and an ex-girlfriend keeps coming around, trying to reconnect with Tom. Tom's hands are full of problems instead of the luscious massage therapist. But when Amber gets kidnapped, Tom will move heaven and earth to get her back and tell her how he truly feels.