It's time for Snippet Sunday and it's starting to cool down in Cheyenne. This is good as I'm ready for fall. Unfortunately, there's a fire somewhere and the smoke is in the air, coloring the sunlight gold and making my head hurt from the stink. I'm hiding inside.
I'm showing off ROPE A FALLING STAR in preparation for STAR SPANGLED BANNER coming out in September. Tom has invited Amber over to his place for dinner but he had to make sure she knew (and he did) that it wasn't a date.
~~~~~~
"Can I help with anything?" Amber followed him into the kitchen and paused by the little dining table.
"Can you fry up a couple of eggs?"
"I can. How do you like yours?" She took the carton he handed her and set it beside the stove. "Over easy, sunny-side-up, over medium, smacked?"
Tom laughed. "I like mine sunny-side-up, thanks. You?"
"For future reference, I prefer mine over medium. I hate snotty whites." She washed her hands in the sink before cracking the eggs on the edge of the pan.
"Duly noted." Future reference? Hot damn, he'd like to have more future with her.
Just keep it friendly now.
"I wanted to thank you again for my massage. I don't think I'd be able to walk, much less cook, without it."
"My pleasure." She stiffened and bit her bottom lip as the eggs hissed in the pan. "I mean, you're welcome. Happy to help."
He wished it was her pleasure, but he let the comment go as he headed out to check on the trout. They were almost done and he turned them over, considering ways to get to know Amber better without coming across like a smarmy jackass.
He liked her, he'd just never had the time or chance to get to know her other than as one of his father's employees. But now that his rodeo career had ended, he wanted to know her better. She seemed grounded and steady unlike a lot of the women he'd met on the circuit, and she definitely didn't strike him as a woman looking for a notch in her bedpost.
This isn't a date, remember?
~~~~~~~
Let's hope he remembers as the night goes on. 😉 There are several great authors on the Weekend Writer Warriors list, the Snippet Sunday Facebook group, and the Rainbow Snippets Facebook group. A few of my favorites are, P.T. Wyant, Karen Michelle Nutt, Veronica Scott, Jessica Subject, Kathy Griffith Karysa Faire, and Iris Blobel.
Here's the blurb for ROPE A FALLING STAR: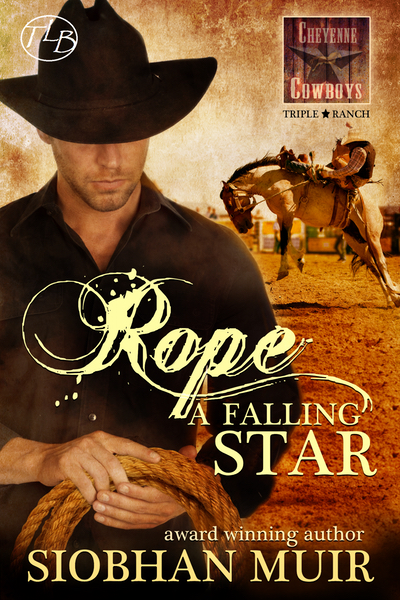 Only the best stars fall…
Three time bronc-riding champion Tom Colton's dream of a fourth title ends when he draws Wooden Nickel, a mean little bronc with more twists than a maze. With his heart no longer in rodeo, he figures it's time to go home to the Triple Star Ranch, the PTSD therapy ranch he and his dad founded to help others with trauma in their pasts. Tom just wants a little time to nurse his hurts and consider his next move.
Amber Hillcrest started out as a Triple Star client and stayed on as a massage therapist. Her dog Nimbus keeps her PTSD in check, but her heart remains bruised. She knows she's too old and too broken for love, especially with the son of her boss, but he's hot enough to fill her fantasies for years to come.
Amber tries to keep it professional between them, but Tom proves too irresistible with his big heart and charm. But someone is sabotaging the Triple Star and the neighboring Fantasy Ranch, and an ex-girlfriend keeps coming around, trying to reconnect with Tom. Tom's hands are full of problems instead of the luscious massage therapist. But when Amber gets kidnapped, Tom will move heaven and earth to get her back and tell her how he truly feels.