It's time for Snippet Sunday. This is a big weekend for the Muir household. Muirlette #1 has a big 8th Grade Prom and she's getting all gussied up. I'm excited for her but still a little weirded out that she's so grown up. Eep.
Today I'm showcasing COURTING THE DRAGON WIDOW and now's a good time to get this tale if you're not an Amazon shopper. It will be in Kindle Unlimited next week so get your copy today if you prefer another format.
In snippet, we're in Lissandra's POV and she's visiting Denarrion's house for the first time. They're both wet from falling into the reservoir and she's the first to speak. Mike is her dead husband.
~~~~~~
"Please tell me you like to cook."
"Yeah, it's one of the things that relaxes me. Why?" He tilted his head.
"Because a kitchen this magnificent shouldn't be left sterile." She ran her hands over the granite countertops. "It's beautiful. I'm not a fan of cooking, but I could be coaxed to spend time here just because of how spectacular it is."
 "Oh yeah? I'll remember that. What I like is no one complains if the recipes don't come out exactly as I planned. Everything tastes good even if the presentation isn't what I hoped." Denarrion gave her his sexy grin again and she shivered with its impact.
"I only like cooking if I can do it with someone else. When it becomes a chore, I run for the hills and depend on Gianni's Pizza."
He smirked. "What did you do before Gianni's?"
"I had a husband."
She'd meant the response to be flippant, but thinking about Mike when she stood in another male's home killed the humor. Denarrion's expression closed down and she wished she'd kept her mouth shut. Nice going, idiot. Nothing like bringing up his dead competition.
She grimaced. "Sorry. That sounded better in my head."
"No problem. I haven't exactly been the smoothest today."
"Oh, come on. Pulling your blind date into the reservoir had to score high in originality points." She winked, hoping to coax out his smile again. "I'm pretty sure no one else would think to do it."
He barked a laugh. "Yeah, that's because it only works on special people. Not everyone can pull off those kind of suave moves."
She laughed, relieved. Maybe they could just ignore Mike from now on. She'd certainly try to keep him where he belonged, in the past.
~~~~~~~
Nice save. 😉 There are several great authors on the Weekend Writer Warriors list, the Snippet Sunday Facebook group, and the Rainbow Snippets Facebook group. A few of my favorites are, P.T. Wyant, Karen Michelle Nutt, Veronica Scott, Jessica Subject, Kathy Griffith Karysa Faire, and Iris Blobel.
Here's the blurb for COURTING THE DRAGON WIDOW: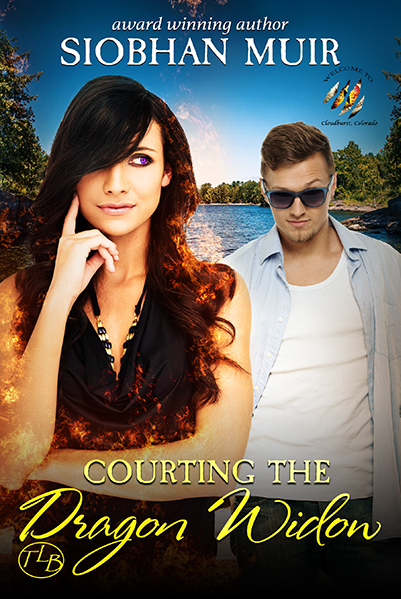 Available Wide for a Limited Time
Everyone has demons, but Lissandra's date might have it worse than most…
Lissandra Charforest is finally stepping back into the dating game after three decades of widowhood. Accepting a blind date, she travels to a small town in upstate New York to meet an eligible dragon bachelor. Too bad the guy seems determined to stand her up.
Denarrion Goldencoat wouldn't have agreed to a blind date with the Widow from Colorado if his father hadn't insisted. Happy being the perennial bachelor, he has no desire to settle down on one woman, much less one with kids already. Until he falls into the reservoir with her.
But everything's not as it seems. Beneath the quaint façade of Redfield, darkness and decay lurks to ensnare the unwary. When Lissandra discovers she's been lured to Redfield to kill a demon under the pretense of a courtship, she almost walks away. But the truth jeopardizes the life of her True Bonded mate, leaving her with one choice: Destroy the demon or die trying.