Welcome to Recipe for Romance!
Each weekend, I share a snippet of a tale that either takes place in the current month (in this case, May) or is coming out in the current month, and a recipe that either goes with the tale or goes with the month.
Confused yet? Excellent! lol
Let's get started. I'm sharing a snippet of THE KAROBIS CALLS, book 4 in the 4 part Ivory Road serial, which came out May 22 2023. It's crazy to recognize this tale is done. It's only been waiting 23 years. Iliana has returned to the Ivory School to find it in ruins with the dead left out to rot. I know Chocolate Chip Kiss Cookies don't go with the scene, but my kid is graduating this year and we'll be serving folks these at her party. They are a family favorite.
Available Now: The Karobis Calls
"Oh dear sweet glory." Iliana turned away and heaved again, but nothing came up.
Grief roared inside her as she moved through the rest of the house, searching for any survivors. She found Temujin inside a ring of bodies in black robes like hers.
The Knalish? What the hell are they doing here?
Temujin had held his own, taking three adult men with him before he succumbed to his wounds. She knelt beside the boy, scanning his body for any signs of life, but he lay still as the dead invaders around him.
"Oh, Temujin, I'm so sorry." She bowed her head. "I should've been here to help."
A sound made her glance around and she realized he'd been defending an iron door to a stone room in the center of the house. The door flew open and a small body launched at her, screaming a war cry.
"Die, Knalish dog!"
Iliana lurched to her feet and met the sword flying at her head with her dagger and a shriek of steel. She pivoted to step over the bodies and watched her opponent. It took her precious seconds and a flurry of defensive moves to realize her opponent was Naomi, her face twisted in anger and grief.
"Whoa, wait. Naomi, it's—"
"You're going to pay for that death; for all the deaths!" Naomi ignored her and pressed on until Iliana disarmed her and bumped her to the floor. "Go ahead and kill me, you coward, but I swear on my grandmother's grave, I will haunt you through the nine worlds and beyond!"
"Naomi, it's me, Rory." Iliana sheathed her dagger and removed the silk from her face before she knelt beside the girl. "It's Master Rory. See?"
Naomi blinked, her eyes growing wide. "Master Rory? Oh sweet Goddess, thank goodness you're here!"
Gluten-Free Chocolate Chip Kiss Cookies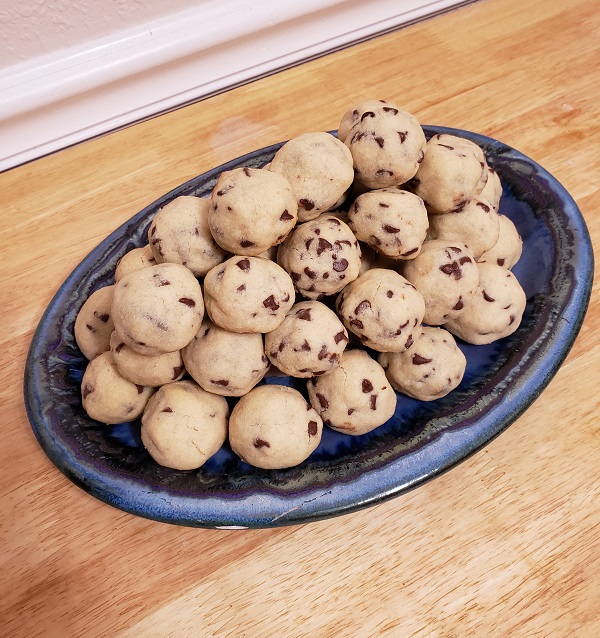 Gluten-Free Chocolate Chip Kiss Cookies
Ingredients
48 Hershey's Dark Chocolate Kisses, unwrapped
1 stick (8 Tbsp) Butter, softened
1 egg
½ cup granulated white sugar
½ cup brown sugar, packed
1 tsp vanilla
2 cups GF 1:1 all-purpose flour
1 cup semi-sweet mini chocolate chips
Directions
Heat oven to 365 F.
In a large bowl mix butter, the two sugars, and vanilla until well blended. Add egg and mix until smooth.
Add flour to butter mixture a little at a time until relatively smooth.
Fold in mini chocolate chips. The dough won't be smooth and the chips might be loose, but it won't matter in the long run.
Grab a handful of dough, a "scant tablespoon's worth" and flatten in your palm. Place a Dark Chocolate Kiss in the center, and mold the dough and chips around the kiss, pressing gently. Once it has covered the Kiss, roll in your hands to make a ball.
Place all the balls on a parchment paper covered cookie sheet.
Bake at 365 F for 8-10 minutes.
Let the cookies cool on a wire rack until no longer squishy.
Makes 48+ cookies.