It's time for Snippet Sunday and it's International Friendship Day! This is a great time to tell those who are close to you how much you care.
I started writing a serial email story once a week back in 2000. In 2015, I published the first section of this tale, The Ivory Road: A Walk in the Sand, as a re-edited story. It did very well and I managed to get the second one out. But then stalled. I'm now working on the third one and my cover artist convinced me to make new covers for all of them so they'd match.
I'm showcasing A WALK IN THE SAND and it's already out where you can grab a copy. It's only in ebook until I get the other two sections done. Iliana Vanessa Rory, stage named Ivory, is hiding in an oasis in an unknown desert and she's hoping no one will discover her. You can read the other excerpts HERE and HERE.
~~~~~~
Crowe paused two feet from Iliana's hiding place and his hands tightened into fists. His expression hardened. She didn't dare breathe. One more step and Crowe would have her, but if she moved, he'd see her. She held her breath and waited for the moment she could sneak farther into the ferns.
"I was dying from exposure, you idiot." Crowe growled as he rounded on Ahmad. "She saved my life. She said if I ever needed her help again, just to come here and call her name."
Iliana crawled slowly through the brush, hoping the breeze would disguise her movements. If she could get to the horse, she might be able to get away. She still hadn't figured out where she'd go, but away from these men and their pursuers would be helpful.
"You were dying." Ahmad crossed his arms over his chest. "How do you know she wasn't just a hallucination?"
"Because I'm still alive, and there's her horse. Couldn't patch myself up, now, could I?"
Crowe paused, cocking his head and Iliana froze. He scanned the space where she'd been crouching with a sharp look.
Please don't see me. Please don't see me.
She resisted the urge to close her eyes as she hunkered down under a ground palm. God, I hope there are no scorpions using this as a home. The man named Crowe crouched and met her eyes, a frown creasing his brows.
"Kyra? Is that you?"
Iliana supposed it was too late to do the Jedi mind trick—this is not the woman you're looking for—but she definitely didn't own the name he called. She shook her head and he grimaced.
"Please, Kyra, we need your help. My colleagues won't do you harm."
~~~~~~~
Oops, guess she'll have to play out the mistaken identity. 😉 There are several great authors on the Weekend Writer Warriors list, the Snippet Sunday Facebook group, and the Rainbow Snippets Facebook group. A few of my favorites are, P.T. Wyant, Karen Michelle Nutt, Veronica Scott, Jessica Subject, Karysa Faire, and Iris Blobel.
Here's the blurb for A WALK IN THE SAND: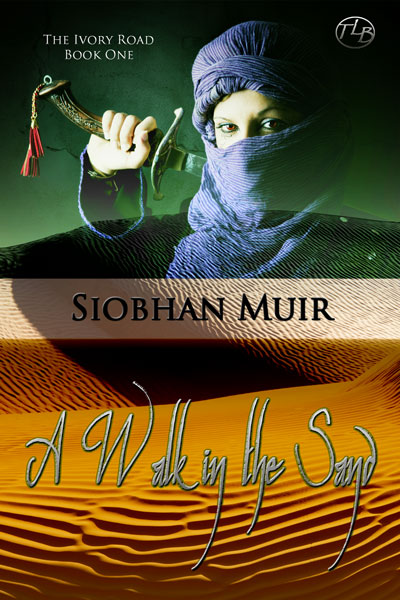 The adventure of Ivory's lifetime might just be the death of her…
When it comes to make believe, A-list actress Ivory is a professional. But when a desert hike takes her across a dimensional rift, her real-life self, Iliana Rory, must separate fantasy from reality. The man she swears is the costar in her next movie might share the same surname and appearance, but there are no sets in this Mr. Crowe's world, no props, and no director to yell "cut" before blood is spilled.

With a fortune in stolen treasure and the forces of the Knalish army hot on their trail, Brandon Crowe and his partner, Ahmad, must cross a desert neither of them knows well. Mistaken for their guide, Iliana seizes any chance to stay ahead of the army and survive in this new world.

Adventure straight out of a Hollywood blockbuster might be on Iliana's bucket-list, but she never dreamed there'd be the real possibility of death when the end credits roll. A Walk in the Sand is the first story in the four part serial recounting Iliana's journey along the Ivory Road.