It's time for Snippet Sunday and I'm on a deadline. Yay me.
The Triple Star Ranch series now has three books, ROPE A FALLING STAR and STAR LIGHT, STAR BRIGHT ,and STAR SPANGLED BANNER.
In this snippet, Dr. Suzie is heading home for the night.
~~~~~~
A few moments later, Enrique emerged from the Bunkhouse dressed in jeans, t-shirt, and running shoes, and she had to swallow to keep from drooling at his physique despite the sling around his arm. He might have been on the injured list, but it didn't slow him down.
"Where are you headed tonight, Doc?" He stopped beside her with a smile.
"I'm going home to my kiddie pool and a glass of wine."
He raised an eyebrow. "Kiddie pool? Doesn't the Triple Star have a spa for that sort of thing?"
She laughed. "I don't want hot water, I want to cool my feet off after being on them all day."
"Ah, okay. Want some company?"
She tilted her head. "Are you offering to join me in my kiddie pool, Petty Officer?"
"Yes, ma'am." He grinned as he fell in beside her. "It's part of the reason I changed therapy venues. Well, maybe not the kiddie pool, but to spend more time with you."
She shook her head in mock disappointment. "Oh, I'm sad you hadn't included the kiddie pool."
"Ma'am, I'm a SEAL. I can recalibrate on the fly to fit the parameters of the mission."
Suzie laughed. "That is an admirable quality."
"Thank you, ma'am. I'm known for achieving my objectives."
She nodded as they continued toward her bungalow. "And what is your objective tonight?"
He met her gaze as a smile curled his lips. "To have dinner and relax with you."
She raised an eyebrow. "Nothing else?"
"No, ma'am."
She shoved the disappointment back behind her eyes. She'd been hoping he wanted something a little more intimate.
"At least not at this moment. Like I said, I'll recalibrate as the mission evolves."
He grinned and she laughed.
~~~~~~~
Nothing like a man who can shift on the fly. 😉 There are several great authors on the Weekend Writer Warriors list, the Snippet Sunday Facebook group, and the Rainbow Snippets Facebook group. A few of my favorites are, P.T. Wyant, Karen Michelle Nutt, Veronica Scott, Jessica Subject, Kathy Griffith Karysa Faire, and Iris Blobel.
Here's the blurb for STAR SPANGLED BANNER: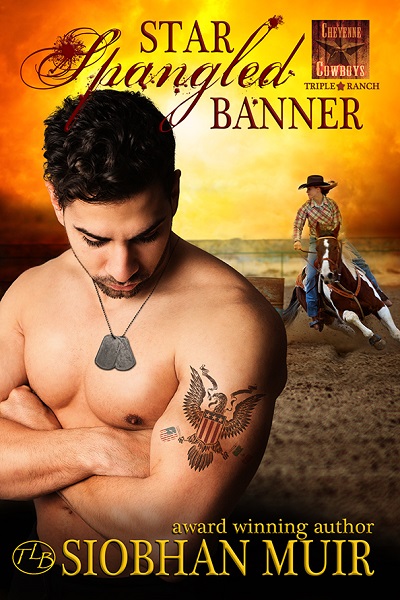 Sometimes a falling star wears a flag…
Dr. Suzie Appleton expected a helluva ride in the barrel-racing championships at Cheyenne Frontier Days rodeo, but she had no idea she'd have to save a man falling from the sky. When he calls her for a date, she's hesitant, but there's something sexy and seductive about the Leap Frog, and she takes a chance. She suggests he come to the Triple Star Ranch for his therapy to have more time with him before he returns to jumping out of airplanes.
Petty Officer Enrique Sanchez signed up to serve his country and expected to get shot at, just not during an exhibition jump at a rodeo. But the sexy doctor who saved his life in the arena is willing to sign off on his transfer on one condition: that he's not her patient. Works for Enrique. He'd much rather play doctor with her than have her white coat get in the way of their personal relationship.
While the attraction between them isn't one-sided, neither are the threats. Someone is trying to complete their attempt on Enrique's life, and someone else has their sights set on Suzie. Rumors and lies threaten to destroy their relationship. But all's fair in love and war, and both of them could lose big.