It's time for Snippet Sunday. April is here and I can see the crocuses and tulips starting to show up. I love the spring flowers.
Today I'm showcasing COURTING THE DRAGON WIDOW and it comes out on Tuesday, April 16th! It's on preorder and you can grab our copy today. In snippet, we're in Denarrion's POV and he's the first to speak. He's on the phone with his brother who's calling to tell him his blind date has arrived. Denarrion isn't ready to face her yet and he's giving excuses.
~~~~~~
"Really, thanks, but no. I gotta get these chairs out of here before the shop starts harassing me about 'em." He sold furniture at a local shop in downtown Redfield, fetching good prices to keep him solvent. And out of my parents' place.
An exasperated sigh gusted into his ear from the other end of the phone. "Seriously? You're gonna hand me that excuse? I'm pretty sure you're just avoiding Ms. Charforest."
"Hey, we're not scheduled to get together until tonight. It's not my fault she got in early." He paused as he narrowed his eyes. "Is she hot?"
"You're a real dick, you know that?" He could hear Charlorrion's scowl. "It's a wonder you're still single."
"It's a gift."
"Whatever, jackass. If you want to know what she looks like, you'll have to come over to see her. Like tomorrow. If you say yes and are a no-show, Torri will string you up by your entrails."
Denarrion laughed. He could imagine Torriandra following through with her threat, despite her delicate looks. "Yeah, yeah, promises, promises. All right, I'll be there tomorrow. I should have most of my work done."
"You better. Or I'm gonna introduce her to one of my firefighter buddies. You know Hollis Lupinsky. He's a werewolf and loves playing with fire."
Despite his less than enthusiastic interest in the Widow from Colorado, Denarrion scowled. "Good luck with that. I hear she's all about having more baby dragons. Can't do that with a werewolf."
"How would you know what she wants? You haven't even met her. You have no idea what her kinks or preferences are." Charlorrion gave a theatrical sigh. "I guess you'll just have to wait until tomorrow to find out. Have a good one."
"Charlie—"
But the line had gone dead.
~~~~~~~
Guess he got what he asked for. 😉 There are several great authors on the Weekend Writer Warriors list, the Snippet Sunday Facebook group, and the Rainbow Snippets Facebook group. A few of my favorites are, P.T. Wyant, Karen Michelle Nutt, Veronica Scott, Jessica Subject, Kathy Griffith Karysa Faire, and Iris Blobel.
Here's the blurb for COURTING THE DRAGON WIDOW: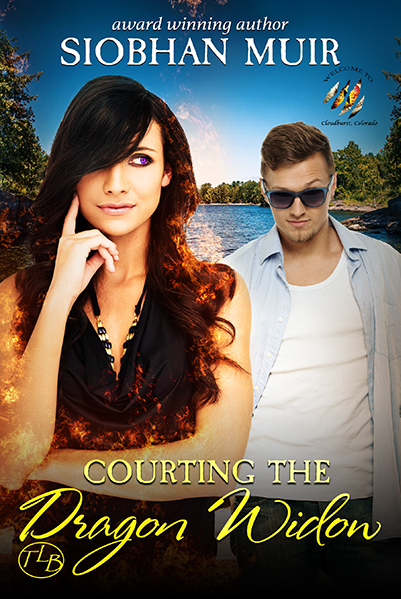 Available Wide for a Limited Time
Everyone has demons, but Lissandra's date might have it worse than most…
Lissandra Charforest is finally stepping back into the dating game after three decades of widowhood. Accepting a blind date, she travels to a small town in upstate New York to meet an eligible dragon bachelor. Too bad the guy seems determined to stand her up.
Denarrion Goldencoat wouldn't have agreed to a blind date with the Widow from Colorado if his father hadn't insisted. Happy being the perennial bachelor, he has no desire to settle down on one woman, much less one with kids already. Until he falls into the reservoir with her.
But everything's not as it seems. Beneath the quaint façade of Redfield, darkness and decay lurks to ensnare the unwary. When Lissandra discovers she's been lured to Redfield to kill a demon under the pretense of a courtship, she almost walks away. But the truth jeopardizes the life of her True Bonded mate, leaving her with one choice: Destroy the demon or die trying.