It's time for Snippet Sunday and school. This week the Muirlettes go back to school and it's to totally new schools this year. I'm both excited and anxious for them.
But I'm trying to stay focused, so I'm showing off ROPE A FALLING STAR in preparation for STAR SPANGLED BANNER coming out in September. In this snippet, Tom and Amber have come to help with the neighbor's ranch fire. Tom ends up talking to his dad.
~~~~~~
"I'm surprised you came at all. Good for you, honey." Mrs. Guthrie bustled past them with a no-nonsense stride. "Let's go get that food. Them boys out there are going to be starving."
"I had to help, even if I can't help fight the fire." She shot a guilty look at Tom before hurrying after the housekeeper.
"I'm real impressed she's here." Trip watched them leave, his expression thoughtful before he sobered. "Let's get these sandwiches out on that table."
Tom jumped to help his dad as they gathered up the platters Mrs. Guthrie had piled with food.
"What happened to her, Dad?"
Trip shook his head. "I don't know the full story, but I can tell you she got trapped in a burning building somewhere. That's why I'm surprised she's here tonight. I never expected her to come near a fire, even with that dog of hers."
"Aw hell, she must be scared out of her skull." Tom took a few steps toward the front doors before Trip grabbed his shoulder.
"Maybe, but you heard her. She's gotta help and this is part of her healin'. Trust me." Trip tipped his head as he tore open the case of water bottles. "There's an old man I used to talk to all the time while on the rodeo circuit. He started out as a bullrider, but after he got gored by a particularly rank bull, he had to give it up. Scared the hell outta him. But he kept comin' back and helped out at the chutes year after year."
"Why?"
"Because he said he had to face it to move past it." Trip shrugged. "I figure that's what Amber's doin' here. Facing stuff so she can move on."
~~~~~~~
Courage is helping despite the fear. 😉 There are several great authors on the Weekend Writer Warriors list, the Snippet Sunday Facebook group, and the Rainbow Snippets Facebook group. A few of my favorites are, P.T. Wyant, Karen Michelle Nutt, Veronica Scott, Jessica Subject, Kathy Griffith Karysa Faire, and Iris Blobel.
Here's the blurb for ROPE A FALLING STAR: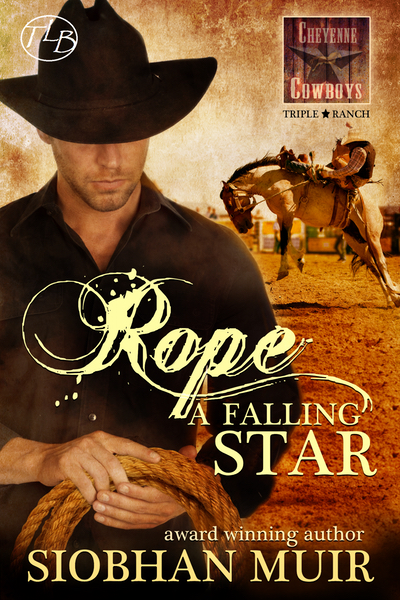 Only the best stars fall…
Three time bronc-riding champion Tom Colton's dream of a fourth title ends when he draws Wooden Nickel, a mean little bronc with more twists than a maze. With his heart no longer in rodeo, he figures it's time to go home to the Triple Star Ranch, the PTSD therapy ranch he and his dad founded to help others with trauma in their pasts. Tom just wants a little time to nurse his hurts and consider his next move.
Amber Hillcrest started out as a Triple Star client and stayed on as a massage therapist. Her dog Nimbus keeps her PTSD in check, but her heart remains bruised. She knows she's too old and too broken for love, especially with the son of her boss, but he's hot enough to fill her fantasies for years to come.
Amber tries to keep it professional between them, but Tom proves too irresistible with his big heart and charm. But someone is sabotaging the Triple Star and the neighboring Fantasy Ranch, and an ex-girlfriend keeps coming around, trying to reconnect with Tom. Tom's hands are full of problems instead of the luscious massage therapist. But when Amber gets kidnapped, Tom will move heaven and earth to get her back and tell her how he truly feels.