It's time for Snippet Sunday and I'm having an adventure around Wyoming. Seems fitting given the stories I'm talking about are the Cheyenne Cowboys.
But in the spirit of our famous rodeo, I'm showing off ROPE A FALLING STAR in preparation for STAR SPANGLED BANNER coming out in September. In this snippet, Amber is getting out from under her fears. You can read the start of her scene HERE.
~~~~~~
Eventually the warmth and steady heartbeat of her companion drilled through her panic. She held on as it subsided and she returned to awareness. It took several steady, deep breaths before the episode retreated enough for Amber to look up and meet the patient, wise gaze of her dog. Nimbus's floppy ears perked as if waiting to see if she was truly back.
"Thank you, Nimbus. I love you." The mantra, her own reentry code brought a gentle tail wag and a doggy grin, but the blue heeler mix didn't move away. More like blue "healer".
Sometimes Amber wondered how her dog could be so patient with her when these events happened all too often. But Nimbus never hesitated or shirked her job. She held her place, and Amber's heart, with a steadfastness belying the usual happy dog she was.
Amber raised her head and took another deep breath before turning her gaze to the west. Lights flashed from their neighbors' property and she knew firefighters fought the blaze. She wanted to help, to support the men who owned the ranch, but she couldn't afford another episode. Then she'd be no help to anyone.
But I need to help. I have to go. Back into the clutches of fear? No, but she could do support services. She'd heard about the teams of people supporting and supplying the men and women fighting the fires. I could do that. She could bring water and food and blankets and supplies. She wouldn't have to face the fire, just help those who did.
"Come on, Nimbus." Amber rose and headed for her closet. "We're going to help, even if it's only to support Ransom, Tansy, and Dane." The Knights had always been nice to her and welcomed her despite her PTSD. It was time to give back.
~~~~~~~
Guess even a hard-headed cowboy knows when it's time to quit. 😉 There are several great authors on the Weekend Writer Warriors list, the Snippet Sunday Facebook group, and the Rainbow Snippets Facebook group. A few of my favorites are, P.T. Wyant, Karen Michelle Nutt, Veronica Scott, Jessica Subject, Kathy Griffith Karysa Faire, and Iris Blobel.
Here's the blurb for ROPE A FALLING STAR: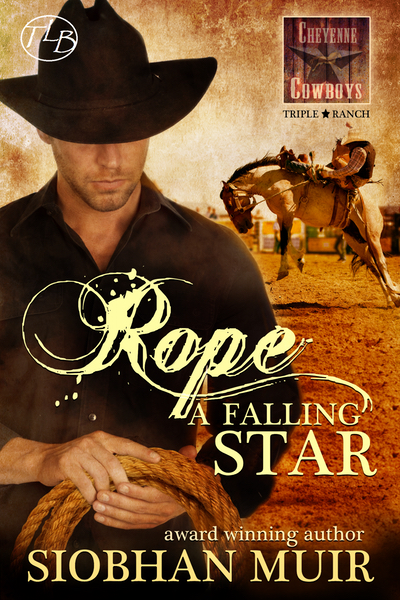 Only the best stars fall…
Three time bronc-riding champion Tom Colton's dream of a fourth title ends when he draws Wooden Nickel, a mean little bronc with more twists than a maze. With his heart no longer in rodeo, he figures it's time to go home to the Triple Star Ranch, the PTSD therapy ranch he and his dad founded to help others with trauma in their pasts. Tom just wants a little time to nurse his hurts and consider his next move.
Amber Hillcrest started out as a Triple Star client and stayed on as a massage therapist. Her dog Nimbus keeps her PTSD in check, but her heart remains bruised. She knows she's too old and too broken for love, especially with the son of her boss, but he's hot enough to fill her fantasies for years to come.
Amber tries to keep it professional between them, but Tom proves too irresistible with his big heart and charm. But someone is sabotaging the Triple Star and the neighboring Fantasy Ranch, and an ex-girlfriend keeps coming around, trying to reconnect with Tom. Tom's hands are full of problems instead of the luscious massage therapist. But when Amber gets kidnapped, Tom will move heaven and earth to get her back and tell her how he truly feels.