It's time for Snippet Sunday and the summer has arrived. It's been really warm here in Cheyenne that it feels more like July even though it's June. We're hiding inside and spend a lot of time in the basement where it stays cool.
This year I'm hoping to finish my serial and that means I have to get the last two installments rewritten and show off the covers. Stop by this week for the cover reveals of the last three installments. But in the meantime, you get this one's new cover.
Today I'm showcasing IVORY ROAD: A WALK IN THE SAND and it's available with the old cover. In this snippet, we're in Iliana Rory's (AKA Ivory) POV and she's trying to hide in an oasis that magically appeared from the men riding hard toward her. The snippet is a little longer than usual.
~~~~~~
A few moments later, the sounds of horses and men filtered into the quiet of the oasis and the riders pulled their horses up beside the pool. Everyone dismounted and filled canteens and water skins. One of the men strode around to the gray horse, his gaze sweeping the trees as he called out someone's name. The rich baritone of his voice soothed her ears and reminded her of someone, but she couldn't remember who. He stood shorter than the others in his party, but carried an air of command with him.
"She's not here, Crowe." A taller man with odd tattoos below his eyes scowled through his beard. "This was a wild goose chase."
"There's her horse, Ahmad." Crowe waved at the gray horse, his gaze still searching the trees. "She has to be here. She's always here."
At least I can understand them.
"How can you be certain?" Ahmad pointed out reasonably. "That horse could belong to the poor fool lying out there dead. If she was here before, she probably saw us coming. What makes you think she'd stay and wait for you? She's a woman. They're ever-changing and less trustworthy than a cobra. We have the entire Knalish army bearing down on us. What makes you think she'd stay to greet them?"
"Because she said she'd wait for us and show us the way across the sands to the west." He paused to shout through the trees. "Kyra!" Crowe strode around the pool to stand directly in front Iliana's hiding spot. "We need her to lead us. Without her, it doesn't matter if the army catches us. She's the only one who knows this path outside the Knalish." He swung his gaze around the oasis. "Kyra!"
"Look, Crowe, we are running out of time." Ahmad stoppered his water skin and slung it over his saddle. "We have to keep moving."
"And where would you have us go, Ahmad?" Crowe turned his back to Iliana. "Kyra is the only one who knows this part of the desert. Without her, we're just another set of bones in the sand."
~~~~~~~
She's talking to someone beyond his reckoning. 😉 There are several great authors on the Weekend Writer Warriors list, the Snippet Sunday Facebook group, and the Rainbow Snippets Facebook group. A few of my favorites are, P.T. Wyant, Karen Michelle Nutt, Veronica Scott, Karysa Faire, and Iris Blobel.
Here's the blurb for A WALK IN THE SAND – With a New cover coming soon!: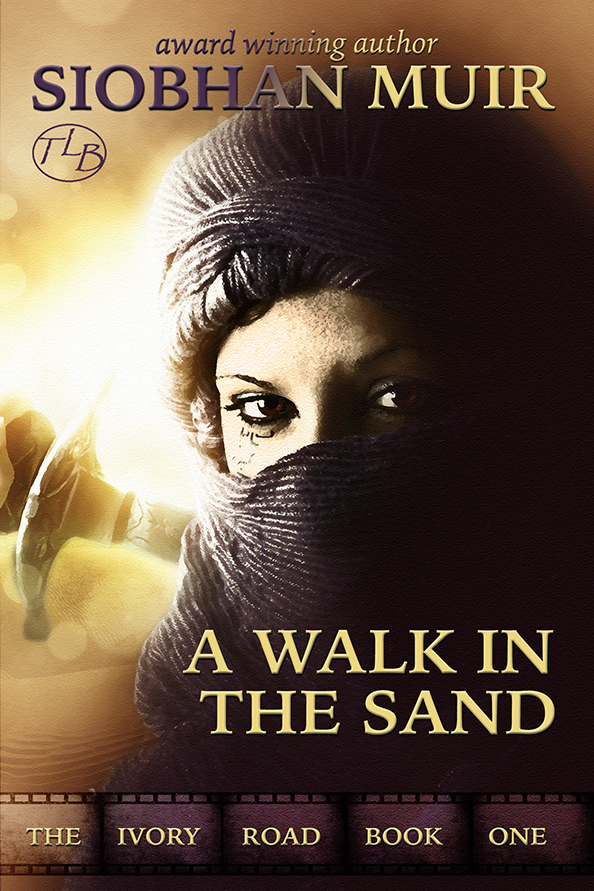 The adventure of Ivory's lifetime might just be the death of her…
When it comes to make believe, A-list actress Ivory is a professional. But when a desert hike takes her across a dimensional rift, her real-life self, Iliana Rory, must separate fantasy from reality. The man she swears is the costar in her next movie might share the same surname and appearance, but there are no sets in this Mr. Crowe's world, no props, and no director to yell "cut" before blood is spilled.

With a fortune in stolen treasure and the forces of the Knalish army hot on their trail, Brandon Crowe and his partner, Ahmad, must cross a desert neither of them knows well. Mistaken for their guide, Iliana seizes any chance to stay ahead of the army and survive in this new world.

Adventure straight out of a Hollywood blockbuster might be on Iliana's bucket-list, but she never dreamed there'd be the real possibility of death when the end credits roll. A Walk in the Sand is the first story in the four part serial recounting Iliana's journey along the Ivory Road.