It's time for Snippet Sunday and I'm working on house projects and writing projects and marketing projects, lol. Fun times of a romance author. But I did got to the post office to get stamps and they have some cool ones these days.
I have some new covers coming on an existing serial. I started writing it on email once a week back in 2000. In 2015, I published the first section of this tale, The Ivory Road: A Walk in the Sand, as a re-edited story. It did very well and I managed to get the second one out. But then stalled. I'm now working on the third one and my cover artist convinced me to make new covers for all of them so they'd match.
So today I'm showcasing A WALK IN THE SAND and it's already out where you can grab a copy. It's only in ebook until I get the other two sections done. Iliana Vanessa Rory, stage named Ivory, has found herself facing a man who thinks she's someone else. Then he takes off his mask to show his face, and she recognizes her soon-to-be-costar. She demands to know why he's there.
~~~~~~
Crowe frowned in confusion. "I came here looking for you. And I rode here." He gestured to the horses.
The grief she'd fought roared to the fore and she held back a scream. Taggart Crowe was too impatient to give her the last few days of her vacation, days she needed to regroup. How he'd gotten her out of one desert and into a completely different one, she didn't know. But she'd be damned before she let him get away with it.
"You rode here. Cute. You do know there's an ocean in between, right?"
"What ocean?"
"I said I would be here on Monday, May twenty-second, not Thursday, May eighteenth. I still have four more days." When he just gaped at her, she scowled beneath her veil. "Look, Mr. Crowe, I'm on vacation and I really needed this time. Couldn't you have waited four more days?"
"Kyra, the army is right behind us." His voice cooled and his hands tightened into fists. "We didn't have much choice of when we would be here."
"Oh, get out of the script. I'm talking real life, Mr. Crowe," Iliana snapped. "Talk to ME, Iliana Vanessa Rory, or Ivory, for short. I'm done playing games and I'd like some explanation as to how you got me here directly from the middle of New Mexico."
"I assure you, I'm not playing any sort of game." Anger deepened his voice to a gravelly roar. "I came here looking for you, Kyra, because I need you to lead us across the western edge of the Karobis desert to escape the Knalish Army. You told me two years ago you'd help me when I needed it, and I can only assume that's why you're here."
~~~~~~~
Uh oh, it sounds like there's a bit of confusion. 😉 There are several great authors on the Weekend Writer Warriors list, the Snippet Sunday Facebook group, and the Rainbow Snippets Facebook group. A few of my favorites are, P.T. Wyant, Karen Michelle Nutt, Veronica Scott, Jessica Subject, Karysa Faire, and Iris Blobel.
Here's the blurb for A WALK IN THE SAND: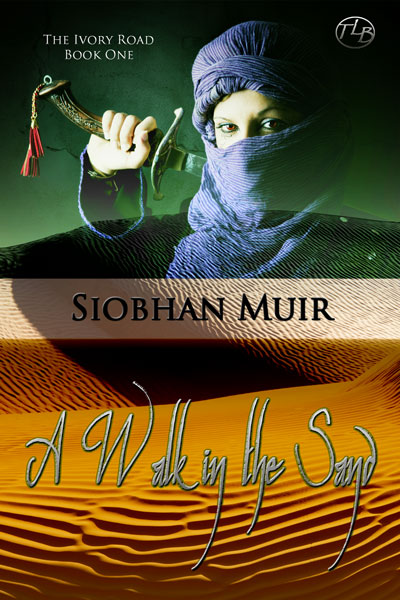 The adventure of Ivory's lifetime might just be the death of her…
When it comes to make believe, A-list actress Ivory is a professional. But when a desert hike takes her across a dimensional rift, her real-life self, Iliana Rory, must separate fantasy from reality. The man she swears is the costar in her next movie might share the same surname and appearance, but there are no sets in this Mr. Crowe's world, no props, and no director to yell "cut" before blood is spilled.

With a fortune in stolen treasure and the forces of the Knalish army hot on their trail, Brandon Crowe and his partner, Ahmad, must cross a desert neither of them knows well. Mistaken for their guide, Iliana seizes any chance to stay ahead of the army and survive in this new world.

Adventure straight out of a Hollywood blockbuster might be on Iliana's bucket-list, but she never dreamed there'd be the real possibility of death when the end credits roll. A Walk in the Sand is the first story in the four part serial recounting Iliana's journey along the Ivory Road.