It's time for Snippet Sunday and it's starting to cool down in Cheyenne. This is good as I'm ready for fall.
I'm showing off ROPE A FALLING STAR in preparation for STAR SPANGLED BANNER coming out in September. Amber has just given Tom a massage and tried not to let her attraction get out of hand. Nimbus is her service dog.
~~~~~~
Usually nights like tonight had Nimbus glued to Amber's side, but her body language spoke of relaxation and contentment. Amber frowned. Nimbus only relaxed when she was relaxed. So why am I so relaxed?
The answer sauntered through the door way and paused to put on his shoes.
"How are you feeling?"
"Real good, now, Amber. Thanks." He stuffed his feet into his shoes and straightened. "Best massage I've ever had, honestly."
"Oh, come on. You're just staying that." She snorted.
"No, ma'am. It's the God's honest truth." He hitched a shoulder. "I've had sports massages, but none of them made me loosen up like yours did. You got real talent."
"Thanks. I'm glad you enjoyed it. Feel free to schedule another any time I have an opening in my schedule." She'd happily rub his body again, even if she could only do it professionally.
"I might just take you up on that." He nodded, his expression thoughtful. "Hey, have you had anything to eat? I haven't had anything since before the rodeo and wondered if you'd like to join me for dinner. We could have some beef brats and beer and listen to the river roll by. Whatdya say?"
Amber blinked. Did he just ask me out to dinner, at his place?
"What?"
He frowned. "Dinner at my place?"
"But you're the boss."
He tilted his head. "Well, not technically. You work for Trip, not me, really."
"Okay, you're the boss's son. Doesn't that make this fraternization or something?"
"You gotta eat, don't you? I happen to have a grill and food, and I'm willing to share. No strings beyond that." He gave her a heart-stopping grin. "I promise it's just two people sharing a meal. No ulterior motives."
~~~~~~~
Hey, as he said, everyone has to eat, right? 😉 There are several great authors on the Weekend Writer Warriors list, the Snippet Sunday Facebook group, and the Rainbow Snippets Facebook group. A few of my favorites are, P.T. Wyant, Karen Michelle Nutt, Veronica Scott, Jessica Subject, Kathy Griffith Karysa Faire, and Iris Blobel.
Here's the blurb for ROPE A FALLING STAR: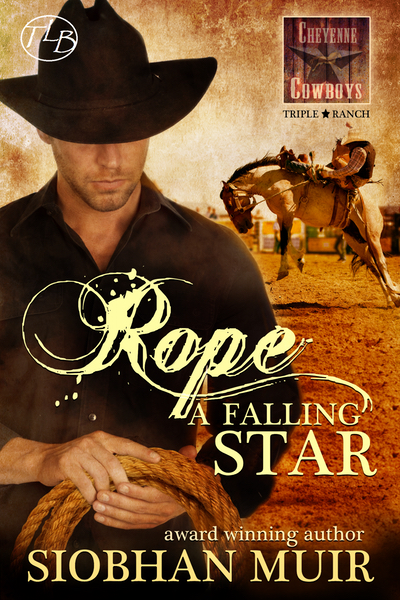 Only the best stars fall…
Three time bronc-riding champion Tom Colton's dream of a fourth title ends when he draws Wooden Nickel, a mean little bronc with more twists than a maze. With his heart no longer in rodeo, he figures it's time to go home to the Triple Star Ranch, the PTSD therapy ranch he and his dad founded to help others with trauma in their pasts. Tom just wants a little time to nurse his hurts and consider his next move.
Amber Hillcrest started out as a Triple Star client and stayed on as a massage therapist. Her dog Nimbus keeps her PTSD in check, but her heart remains bruised. She knows she's too old and too broken for love, especially with the son of her boss, but he's hot enough to fill her fantasies for years to come.
Amber tries to keep it professional between them, but Tom proves too irresistible with his big heart and charm. But someone is sabotaging the Triple Star and the neighboring Fantasy Ranch, and an ex-girlfriend keeps coming around, trying to reconnect with Tom. Tom's hands are full of problems instead of the luscious massage therapist. But when Amber gets kidnapped, Tom will move heaven and earth to get her back and tell her how he truly feels.